Super League
Kuala Lumpur's two Adnan's target top five finish, KLFA Stadium completion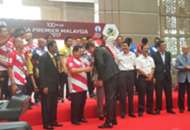 ---
BY        ZULHILMI ZAINAL       Follow on Twitter
---
Following their Premier League title win and promotion to the 2018 Super League, Kuala Lumpur have two targets, at least those laid out by the Malaysian Minister of the Federal Territories and club patron Datuk Seri Tengku Adnan Tengku Mansor.
Speaking during the trophy presentation ceremony that was held in Putrajaya on Tuesday, Adnan voiced his desire to have the City Boys finish their Super League campaign next season in the top five position.
He also wants Kuala Lumpur's home ground the KLFA Stadium in Cheras, which has been undergoing renovation for the past few years, to be ready for use by the end of this year.
"I know it is not realistic to expect a team that have just secured a return to the top tier to capture silverware, but I think a top five finish is not impossible.
"On top of this, I want the KLFA Stadium to be ready for use at the end of this year, whatever it takes," said Adnan in his speech during the ceremony.
Speaking to the press after the event, Adnan said that his ministry will continue assisting the team financially by securing sponsorships, while also praising the club's prudent spending.
"We (the ministry) will continue assisting them by finding sponsors.
"So far they've been prudent in their spending, and they have not been spending lavishly," he remarked.
Club chairman Datuk Seri Adnan Ikshan meanwhile told the press that they will push to have their home ground's renovation work completed, while adding that the top-five finish is possible.
"From my latest observation, the pitch is not even yet while the grass is patchy. We hope the stadium can be used by the end of the year.
"I understand that a top-five finish is difficult to achieve, but we must begin with desire. We must hope, but we must begin preparations from early on," said Adnan.
Adnan Ikshan speaking to the press after the ceremony.