Paul Pogba
Kroos is worth €120m + Pogba - Madrid master the best midfielder at Euro 2016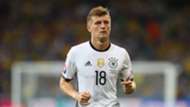 ---

COMMENT
---
Felix Kroos probably did not find many people agreeing with him when he insisted that his brother, Toni, is worth more than €120 million plus an exchange of Europe's most highly-coveted young player in Paul Pogba. However, Germany coach Joachim Low, and indeed a large part of the nation's people, will feel the Union Berlin player was on to something after seeing him shine for Die Mannschaft through Euro 2016.
Recent reports have stated Juventus want a massive fee for the midfielder and the German in exchange, but his brother feels it should be the other way around.
He is right that Toni should not be considered a mere add-on in such a transfer. Kroos has, after all, outperformed his French counterpart in the tournament so far, having been more consistent, reliable and effective for his side. Given the hype that surrounds Pogba and the understated grace with which Kroos goes about his job, that is quite the surprise.
Pogba was seen as the man to lead Les Bleus to glory heading into the summer showpiece, but the same has not been expected of Kroos for Germany. All attention was on the likes of Mesut Ozil, Thomas Muller and Mats Hummels as the key men for the world champions heading into the competition, yet it has been the Real Madrid midfielder who has taken over as the beating heart of this side.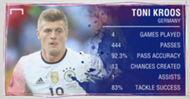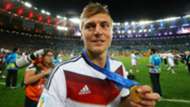 Having made and completed the most passes in the entire tournament after four games, Kroos has been a real metronome for Low's men. Although he is yet to add a goal to his record, he has picked up one assist and only four players at Euro 2016 have created more chances than the 13 he has carved out from his deeper role.
To followers of La Liga and indeed the Bundesliga, this will come as no surprise whatsoever. Only one player – Roberto Trashorras – made more passes than Kroos in the Spanish top flight last season, though the latter made four less appearances and had a better accuracy rate, completing 94% of his 2425 attempts.
The likes of Granit Xhaka, Marek Hamsik, Andres Iniesta and Aaron Ramsey have all impressed this summer, but Kroos has set himself apart with his composure, consistency and his importance to his side.
"Toni has not only been performing at a very high level at this tournament, but also after Euro 2012 and the 2014 World Cup," Low said of the midfielder.
"He always does well for us. He is very economical in his way of playing. He does not make many mistakes. He brings balance to the team and is always available to receive the ball. His team-mates trust in him. That's why he is a decisive player for us."
Such recognition and influence from the former Bayern Munich man marks quite the change from the criticism he received just four years ago. Kroos was drafted into the Germany starting XI for his first start of Euro 2012 when they lined up against Italy in their semi-final. Low's men had been thoroughly impressive throughout the competition, battling past Netherlands, Portugal, Denmark and Greece, but the coach made some key changes to his side as they lined up against the Azzurri.  As Mario Balotelli and Antonio Cassano fired Cesare Prandelli's men to victory, the Germany coach was heavily criticised, but so too was Kroos for his weak display in the centre of midfield, which aided Italy in scoring their opening goal.
Four years later, though, and Germany and Kroos are in a different situation. Just as Germany's new golden generation is shining on the big stage as world champions and looking strong in the Euros, so too has the midfielder's stature improved greatly. At 26, he is, like his national team, no longer a promising youngster as he was that day in Poland. Instead he has grown into a sound midfielder, crucial to the European champions at club level and integral to everything the World Cup winners do at international level, though he is still developing in some ways.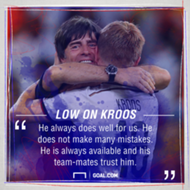 Germany have never beaten Italy at a major tournament, losing all four of their clashes in knockout rounds. With the Azzurri excelling unexpectedly at Euro 2016, Low's charges face a difficult task in reaching the last four this time around, but as they look to build on their World Cup win and assert themselves as the dominant force in Europe after Spain's collapse, the pressure is on.
"Why should I have an 'Italian trauma'?" Kroos asked in his press conference this week. "They are hard to play against, stand deep and are very relaxed on the ball, they've played like that for years. Italy will be the strongest team we have faced until now. I'm looking forward to it and I'm very optimistic."
Of course, the entire Germany team will feel the desire for revenge, but Kroos has something new to prove as he looks to show just how far he has come since that semi-final defeat four years ago.
Many will not agree that he is worth €120m on top of the value of a rising star like Pogba, but he certainly should be more than a mere transferrable afterthought in such a transfer. He has guided Germany far already as the best midfielder at Euro 2016, now he has to help them banish their Azzurri demons and help them claim another major trophy.