I-League
Kolkata derby: East Bengal's Khalid Jamil - Mohun Bagan have experienced players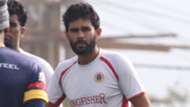 East Bengal coach Khalid Jamil acknowledged that his team needs to be at their best this Sunday when they take on arch rivals Mohun Bagan. It must be noted that the Green and Maroon brigade had won the bragging rights earlier this season with a 1-0 victory.
"We will prepare the way we always do. The last match in which we lost to Bagan, we didn't play good. This time we have to prepare and not take them lightly at all. Like any other match, we have to play well and take the points. They have good and experienced players," said Jamil.
The Red and Gold side have played 10 matches this season and have amassed 19 points as they trail league leaders Minerva FC by three points, who have a game in hand as well. Failure to win the derby could possibly end their hopes of winning their maiden I-League title.
"Every match is a do-or-die situation for us. Even in Aizawl, the pressure was the same. I never give any prediction. Mentally we have the confidence. I'm sure they will also have confidence," he pointed.
Jamil mentioned that he has no special plans in place for the latest Bagan recruit Akram Moghrabi, who was intrumental in Churchill Brothers' title winning campaign.
"I saw Akram a few years back and he is a good player. However, we have no special plans to contain him," he said.
He signed off by stating that there is still a lot left in the I-League before a winner is determined.