Liverpool
Klopp 'not crazy' but feeling positive about Liverpool future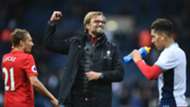 Jurgen Klopp sees "so much space to improve" at Liverpool and is feeling "really positive" about the club's future.
The Reds failed to sustain a Premier League title challenge in 2016-17, but were able to finish inside the top four.
'Liverpool want buys like Coutinho'
Champions League football will be back on the agenda at Anfield next season, with the club looking to juggle domestic and European commitments.
Klopp is confident his side can handle the added workload, with the German convinced that there is still plenty more to come from a team that remains a work in progress.
He told Liverpool's official website: "I know that we are good already but we have so much space to improve - I love it.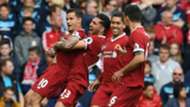 "Being really good and feeling there's not a lot more possible, that's still OK but you think how can you keep this? We can really improve. That's what I'm really looking forward to.
"We have to, obviously, because around us we have a lot but we will really be a challenger, we will fight.
Liverpool to play in Bayern's Audi Cup
"We will play good football on the good days, on the less good days we will still fight for the result. I really feel positive."
Klopp added: "I'm really optimistic for our future, not because I'm crazy but only because I know what we have, I know what we will get, I know what we can get, and I know that we really have a super bunch of people - knowledge, character - not just the players, all around."
Liverpool will be expected to be busy during the summer transfer window, like many of their Premier League rivals, as they seek to add greater depth to a squad which had no continental football to contend with in 2016-17.