Africa Women Cup of Nations
Kenya coach David Ouma upbeat of a better performance in 2018 Awcon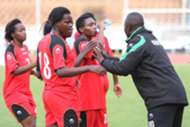 Kenya will not be petrified by the 'big names' when Harambee Starlets make their second appearance at the Africa Women's Cup of Nations in Ghana.
Starlets landed ten-time African champions, Nigeria in a tough Group B, that also have 2016 runners-up, South Africa and Zambia.
But despite facing a mountainous task when the competition kicks-off on November 17 to December 1, Starlets coach David Ouma remains upbeat that Kenya, who will face Zambia in their opener, will better their last performance.
Kenya took part in the last edition held in Cameroon, where they, crashed out in preliminary stages. Nigeria, in particular, handed Kenya a 4-0 defeat, having lost the opener 3-1 to Ghana and another identical scoreline defeat by Mali.
However, coach Ouma is eying at least a point from the Super Falcon when they clash in the final Group match of this year's competition.
"I'm not focusing on Nigeria alone because if you look at the tournament, we have, like the top six African countries there, so basically every team is a worthy opponent. But I believe that with extensive preparation and a proper mindset, we can pick at least a point from each team," said a courageous Ouma.
Asked about Sunday's draw, Ouma admitted that he will be facing tough rivals but remained defiant that Kenya will not be going to Ghana as mere participants, but competitors.
"Last time out we lacked a bit of experience, but right now we have about five professional players, who will bring in more leadership into the squad. It is a tough group in that we have the defending champions (Nigeria) but I was ready to face any team.
"We have been scoring goals; and all we just need for now is to make the players a bit more composed and we will get positive results," Ouma told Goal in an exclusive interview.
The tactician is set to name a squad of 30 players to start preparations by October 29.