Manchester United
Keane claims Fellaini is the scapegoat for Manchester United fans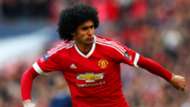 Roy Keane has defended Marouane Fellaini's form for Manchester United and believes the Belgian has become a scapegoat for fans.
Keane's Republic of Ireland face Belgium on Saturday with both sides looking to secure their first victory in Group E at Euro 2016,
Fellaini was brought to Old Trafford by David Moyes in a £27.5 million deal from Everton and has struggled to secure a regular role in United's midfield.
But Keane believes the 28-year-old has made a positive impact in his three years at United.
"I like Fellaini," said Keane.
"I thought the criticism he had when he went to United was a bit over the top.
"I think it was just because he came in at the last minute when David Moyes was there and fans were maybe quick to jump on his back.
"I saw him a few times live, when United weren't great, and thought he done okay. But he seemed to be the scapegoat for the fans.
"We saw him recently scoring some important goals. I like him. I liked him at Everton and I think he's a good player for Man United.
"The criticism he's had, I think he's more of a scapegoat than anything else. Which can happen when a new manager brings in certain players and the new signings get criticism.
"If anything, they should have been criticising the experienced players at United who weren't helping him out or who weren't helping out the new manager. But that's another story."