Premier League
Karanka: It would be amazing for Middlesbrough to survive in the Premier League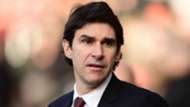 Middlesbrough manager Aitor Karanka says it would be an "amazing" achievement if his side were to survive in the Premier League. 
Madrid halt Barca's Bernabeu dream
Boro have only won four league matches this season, but they have accumulated 21 points – enough to leave them outside the drop zone with 14 games of the campaign remaining.
Karanka, a former assistant to Jose Mourinho at Real Madrid, led Boro out of the Championship and into the top flight and says he is "proud" of what his side are currently doing.
"It would be amazing to survive," he said. "To come three years ago into that situation and to finish in the Premier League competing, especially when everyone can watch us competing, we have to be proud.
"As a coach, the main thing is when your players are doing their best.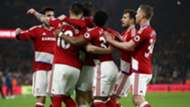 "When I said we are here because we have to know we are tougher, it's the same for the crowd. They knew it was going to be tough and difficult.
"The last home game was amazing, and they were amazing at Tottenham. They know the players need them and if I have to ask them for something, it's to help them."
Wenger: My Arsenal job not on the line
The Spaniard also believes that his squad's attitude heading into Saturday's clash with Everton is far better than when they last faced Ronald Koeman's side back in September, losing 3-1.
"After that game we've improved a lot. It's difficult to score goals and create chances, but we're improving a lot, and we're competing against every team," he said.
"We realised how difficult the Premier League was that day [when Boro lost 3-1 at Everton in September] because we competed against Everton in the second half, but for 15 minutes in the first half they were much better than us and we couldn't compete."