Kaizer Chiefs
Kaizer Chiefs won't entertain allegations of age cheating leveled against Wiseman Meyiwa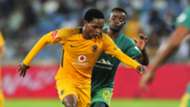 Kaizer Chiefs football manager Bobby Motaung has dismissed allegations that Wiseman Meyiwa is an age cheat.
Several reports on social media emerged that while Meyiwa is registered as a 17-year-old by Amakhosi, he was actually way older than he claims. 
According to reports, Meyiwa matriculated in 2008, and previously used Moshoeshoe as his surname while at Maritzburg United football academy as a 14-year-old in 2009. 
However, Motaung feels whoever started the rumour is trying to pull Meyiwa down and make him lose focus, especially now that he's playing for the Amakhosi first team. 
Motaung said Fifa would have raised the issue with the parties involved had they suspected that Meyiwa was an age cheat during the U17 and U20 World Cup tournament which the player represented South Africa in.  
"Why now?" asked Motaung in an interview with City Press. "This boy was there in the national Under-17 and Under-20 teams, and they didn't say anything. These are people who want to pull him down and make him lose focus, and we are not going to dignify that with a comment. They must just leave our boy alone," he said. 
"Where were these people when he represented the country at World Cup events where they have age verification processes? Is it because he is now with the first team and they want to destabilise him? This is a pull-him-down syndrome because they want to see him fail, but he has our support," added the Amakhosi boss.
"Whoever started this rumour must go jump because we are not going to entertain it," Motaung concluded.