Juventus
Juventus unveil new 2017-18 home kit featuring controversial crest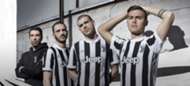 Champions League runners-up Juventus have revealed their new home kit for the 2017-18 Serie A season.
The black and white striped shirt is the first to sport the club's controversial new crest, which received criticism from fans for its departure from the traditional badge but was hailed by branding and design experts.
The Serie A champions claim the new kit embodies the club itself by "honouring the past, looking to the future: this is the goal, to continue to reinvent itself. And to win."
Despite the new logo, the jersey does not stray far from Juventus traditions, using the immediately recognisable black and white stripes as well as a classic collar, similar to the Juventus jerseys of the 1940s.
Vi presentiamo il nostro nuovo Home Kit 2017/18 by @adidasfootball #HereToCreate #ForzaJuve https://t.co/gt7NSaqZQv pic.twitter.com/H9oIwve0OU

— JuventusFC (@juventusfc) June 7, 2017
As Coppa Italia winners, Juventus are entitled to wear the competition's rosette on their jersey, and this is displayed above the logo and the three stars which represent the 31 Serie A titles won by the club.