Juventus
Juventus' mental toughness the reason for their seventh Scudetto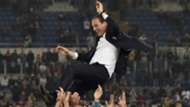 As the latest Serie A season draws to a close, Juventus' champagne bottles will remain open as the club celebrates a historic seventh Scudetto in an era where they have reigned supreme.
 Serie A this season has arguably been one of the most exciting leagues among Europe's top five, to watch in recent times, especially given how Napoli had pushed the Turin giants all the way until their dramatic collapse against Fiorentina.
For Bianconeri coach Massimiliano Allegri his brand of pragmatic football was the order of the day but this was in stark contrast to Maurizio Sarri's style: which was attacking and attractive. Maverick Sarri's team set the footballing world alight with their display while Allegri was criticised for his.
Arrigo Sacchi; the legendary manager of the all-conquering AC Milan side of the 90s, had turned into chief critic highlighting to Allegri that his style of play was obsolete. The pair reportedly clashed once during an interview in 2016 and since then it is obvious to see that they do not see eye to eye.
While Sacchi has a point, what he failed to see was despite the Turin side playing a bland brand of football, Juventus always get the job done. This is a team that knows how to win especially in the crucial moments. Other teams can go on and moan about unjust refereeing decisions and other external factors but the fact is the team in black and white possess an unrivalled mental strength that are lacking in their rivals.
A good example that crystallises the aforesaid statements would be when the Partenopei thought they had already won the league after defeating Juventus 1-0 in Turin. Now the supposed script would be for Juventus to feel demoralised and deflated after the defeat, while Napoli would march on to the title. However the script was torn and flung out of the window when the Naples side were thrashed by Fiorentina 3-0 leaving their title aspirations dashed.
Juventus for their part smelled blood and kept grinding out victories because while physically they may have lost to Napoli, but mentally they knew the crown was rightfully theirs. The league leaders were immune to pressure, the Azzurri however allowed pressure to creep into their minds, thus eroding all the hard work that they put in.
Not too long ago, Juventus were featured in a Netflix sports documentary. In the documentary it was revealed that behind their dominance underlain an all-encompassing ethos.  "Winning is not important, it is the only thing counts". These words were first uttered by Juventus legend Giampiero Boniperti and it has accompanied the club ever since.  Although at times certain members of the club have taken the words too literally, the Turin giants' mental and physical qualities must be praised. Roma's coach Eusebio Di Francesco recently spoke of how the Roman club needs to acquire the mental toughness of Juventus if they are to shed their tag of being runners-up. And for all of Italian football they should be inspired by the Bianconeri because this is a club that never says never.