Gianluigi Donnarumma
'Juve should sign Donnarumma and loan him out' - Casillas sees Milan star as Buffon successor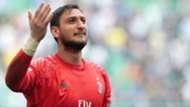 Real Madrid legend Iker Casillas has urged Juventus to sign Milan's Gianluigi Donnarumma and loan him out until Gianluigi Buffon retires.
The highly rated goalkeeper burst onto the scene during the 2015-16 campaign, making his debut at the age of 16.
He is now the undisputed first choice at the San Siro, taking in 72 club appearances to date, but has seen his future called into question during a contract dispute.
Casillas: Buffon deserves CL glory
Casillas believes Serie A champions Juve should look to take advantage of that by raiding a rival for a player capable of filling the shoes of a club icon.
The World Cup winner, who is now on the books at Porto, told Gazzetta dello Sport: "They should take Donnarumma. Leave him on loan for a year or two until Gigi retires and then bring him to Turin.
"If I were to bet on a young goalkeeper it would be him. There's no-one else in Europe, there isn't another 18-year-old with so many qualities.
"Obviously he still has to mature for a year or two, but his qualities are obvious."
Casillas has also admitted that he could join Buffon and Donnarumma in Italy after reaching the end of his two-year contract in Portugal.
He added on his future, with Liverpool and Paris Saint-Germain among those to have been linked with a move for his services: "I'm on standby.
"I have a clause which allows me to stay at Porto for another year, but I'm reflecting. We'll decide together.
World's most expensive goalkeepers
"As far as I'm concerned, Serie A is a good option. There are big teams, the football is important and I like the country.
"Now I'm in Portuguese exile, but yes I'd like to come to Italy. Then it would be beautiful to play against Gigi again, wonderful."
Buffon has edged ahead of Casillas on the international cap front, with the Italian now one clear of his Spanish counterpart on 168.