Mexico
Juan Carlos Osorio: Mexico has 'right to dream' of World Cup success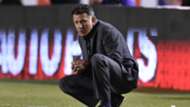 Mexico manager Juan Carlos Osorio accepts that getting to the semifinals of the World Cup may be too ambitious of a goal for Mexico but said it's one he believes his team can reach.
"Getting to the semifinals of the World Cup, it's very hard, but I think we have the right to dream and same right to think that it's a goal that can be achieved," he told Fox Deportes.
While taking El Tri to the semifinals likely would put Osorio in contention for several of the European jobs he's often said he'd like to take, the coach said he's open to staying in Mexico should he have a good tournament.
The 56-year-old has said multiple times that he declined a contract extension with Mexico because he wants to make sure not to put the federation in a bad spot should he have a poor World Cup. Of course, that also allows Osorio to keep his own options open should Mexico overachieve.
Even if Mexico does exceed expectations, though, the coach said the allure of working with players like Hirving Lozano and Jonathan Gonzalez who he has brought into the national team fold could pull him back.
"I'd like a new cycle with the Mexican national team. I've told that to the bosses. If there's one fundamental reason I'd like to continue, it's because there's a group of young players who we've given opportunities and I'd like to see how they end up coming together. I hope the World Cup meets the standard and gives us the right, on our own merit, to have the chance to continue.
Trying to read the tea leaves regarding the Colombian coach's future may be getting ahead of things. If he has a poor World Cup, it's unlikely he'll be asked to return with El Tri, and the manager has plenty of difficult decisions to make in his midfield and at the back. Though his squad list for the World Cup will be sent soon, the coach said he's still open to a player impressing in league play.
"Picking the starting XI won't be easy. We're following several players very closely. There are few spaces, but there will continue to be those spaces, for any player, until the last day," he said.
Mexico has a friendly match in the U.S. against Wales, one in Mexico City against Scotland and travels to Denmark to play the Danes before beginning the World Cup against Germany on June 17.