Juventus v Monaco
Journey to the final four: Why Juventus need Champions League glory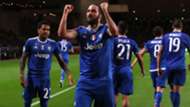 Juventus are European giants. Nobody has won more Serie A titles or more Coppas Italia. This season they will become the first club in Italian football history to lift six consecutive scudetti, and only Lazio stand in their way of a third straight Italian double.
The Old Lady have become completely dominant on the peninsula, hoovering up Serie A's best and brightest and now routinely swatting away those who attempt to take their crown by cherry-picking the stars of their competitors. The arrivals of Miralem Pjanic from Roma and Gonzalo Higuain from Napoli were power moves.
And yet Juve are not at the top of the food chain. Their six years of supremacy have seen Paul Pogba, Arturo Vidal and Alvaro Morata all move on, because even the Old Lady are powerless when faced with fluttering eyelashes of the game's true studs. Paulo Dybala is the latest Juventus superstar linked with a move to a 'bigger club'.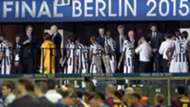 Two lines, taken from two separate interviews, uttered in two different years, from the two major figures at the club, tell the story.
"We must not turn the Champions League into an obsession, it has to just remain a dream" said coach Max Allegri in March 2016, "but this season it would be a logical conclusion," added Gianluigi Buffon last week.
Allegri's insistence that European domination remains a "dream" illustrates that Juventus are aware of their place in the contemporary, fully-globalised world of football, where the true elite are untouchable.
Buffon's comment, meanwhile, suggests Juve are ready to re-join the big boys. After all, "We're talking about the best team in Europe," explained Marcelo Lippi, a former World Cup-winner and the last coach to guide the Old Lady to the top of Champions League glory.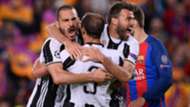 And there are signs that everyone is on board. While Pogba and Vidal jumped ship to super clubs, the likes of Leonardo Bonucci have resisted, and Dybala has just penned a new contract.
Keeping Bonucci has been key. Perhaps the finest long-passer in European football, his role has been incremental in forming the best defensive unit in world football which sits resolutely in front of the great Buffon.
From Lilian Thuram and Andrea Pirlo and to Patrice Evra and Dani Alves, few clubs in European football have prolonged careers like the Turin giants. Bonucci's peerless partners, Giorgio Chiellini and Andrea Barzagli, however, are now 32 and 36 respectively, and even 39-year-old Buffon can't go on forever.
The break-up of one of European football's all-time great defences – they've conceded just twice so far in this season's Champions League – is just over the horizon. Allegri, meanwhile, is turning heads amongst England's Premier League owners.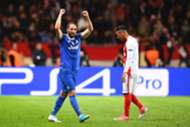 Few clubs in world football have invested as widely as Juve in recent years, with fans likely having to go all the way back to the €25 million arrival of playmaker Diego in order to find their last real flop, but to truly take their seat back at Europe's top table, Juventus need a UEFA Champions League title.
The €90 million capture of Higuain was a statement of intent. They very likely would have won Serie A with a striker for half the price. Pipita's arrival emphatically announced that they were ready to take the next step, to stand alongside Barcelona, Real Madrid and Bayern Munich.
A Higuain double in Monaco last week has them odds on to make their second Champions League final in three years. He now has five goals in 10 matches, his best-ever Champions League return. On Tuesday, Juventus ride again. The Old Lady is going international, and she's ready to recapture her throne.
Check out more UEFA Champions League Nissan content on Goal.com