Safiq Rahim
Safiq feels JDT 2018 more equipped for ACL challenge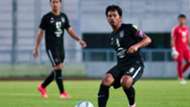 Johor Darul Ta'zim's (JDT) footballing journey for 2018 begins with the first competitive match of the season against Thai side, Muangthong United. The AFC Champions League (ACL) preliminary sees the giants from neighbouring Southeast Asian countries battling each other for a spot to face Kashiwa Reysol in the next qualifying stage.
The two sides have met before at the same stage two seasons ago where Muangthong came up trumps. This time around, Safiq feels that JDT has matured and are better prepared to face the challenges of the 2016 Thai League 1 champion.
"Now, everybody is okay. We are ready for the qualifier against Muangthong. We know Muangthong are a good team and before this, we played against them in 2016. Now in 2018, it's a different story, a different chapter, so we want to have a better result."
"I think in other years, we didn't have a full squad, but last year and this year we have a full squad, so we are more confident, and we are better prepared before we go to the qualifiers," said Safiq in an interview with AFC.
In recent times, Muangthong had let go their star man in goal Kawin Thamsatchanan, who have been signed by a Belgian club. Tochtawan Sripan the head coach will have to do without Teerasil Dangda and Theerathon Bunmathan soon but both are still expected to feature on Tuesday.
Packed with quality players all around, it was hard for Safiq to pinpoint anyone in particular as the danger man. JDT themselves will have to ensure that they got their tactics right to get a second stab at the opportunity to come up against a Japanese team, after last season's match-up against Gamba Osaka.
"For me, all players in Muangthong are good. The most important thing for us is Johor Darul Ta'zim. If we are in good condition, all is good tactically, and we follow instructions, I think we can get a positive result."
"We know Muangthong are a good team. Two years ago, they had a lot of national team players, good young players and good foreign players, so we must prepare well before we face them," added Safiq.
In order for them to fine tune their fitness for the upcoming season, JDT went on a pre-season tour in Thailand which also doubled up as preparations for this Muangthong United match. With the return of Hariss Harun and Luciano Figueroa, the Southern Tigers could well ensure a disappointing night for the home fans at SCG Stadium on Tuesday night.