Javier Mascherano
Javier Mascherano still the chief of this Argentine team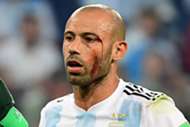 Blood poured out of his face and yet he didn't flinch, eyes still solely focused on the objective of the day which was to secure his country's berth in the last 16 in Russia. Watching Javier Mascherano against Nigeria was truly awe-inspiring yet sad at times.
Here was a man whose best years are behind him. 'El Jefe' as he is known didn't have the legs and gave the ball away cheaply too many times. His mistake led to Nigeria earning a penalty and equalising, jeopardising his country's position in the tournament.
On the other hand in the game at times we saw a different Mascherano, one who would track all the way back and put in a clean tackle to recover the ball he gave away. Mascherano was never blessed with pace but the former Barcelona man always had a good footballing brain and used it to make vital interceptions against the Nigerians.
More impressively at a time where La Albiceleste needed leadership, Mascherano rose to the occasion and took responsibility. His guidance of his teammates on the field was needed and a calming influence in what has been a tempestuous campaign for the Argentines.
Argentina scraped through and many will continue singing the praises of Marcos Rojo with 'El Jefe's' efforts largely going unnoticed. But that will be fine for the 34-year-old whose career has largely been overshadowed by his star studded teammates. At 34 this could be Mascherano's last campaign yet he is still largely indispensable to the team.
Many have written about the slow demise of him at this tournament but to write Mascherano off would be premature. The man is their leader and coach on the pitch. He is the voice of reason amongst the chaos. Argentina survived and Mascherano played a vital role. His powers might be declining but he is still a warrior and against France there is no doubt he will fight till the final whistle.