Manchester United
'It was an ugly game to watch' - Blind hoping home comforts aid Man Utd in Europe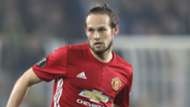 Daley Blind admits Manchester United's Europa League clash with Rostov was "an ugly game" but is looking for them to ensure their continental adventure continues at Old Trafford.
The Red Devils left Russia on Thursday with a 1-1 draw, with Henrikh Mkhitaryan having netted what could prove to be a vital away goal.
United expressed concerns regarding the state of the playing surface before and after their midweek encounter, with Jose Mourinho particularly scathing in his assessment.
Ince: Europa League is Utd's main target
Blind, who celebrated his 27th birthday on the day of the game, admits that the conditions made life difficult for both sides.
Things will be different, though, back on a pristine pitch in Manchester, with United setting their sights on a quarter-final berth.
Blind told MUTV: "It's a good job we scored an away goal but, of course, we wanted to finish the game 1-0.
"They came back to 1-1 and then you can do two things: you can attack or you can be a bit smarter and know there's a second leg. We chose the second option.
"The game was unplayable [because of the conditions]. It was very bad, we couldn't play any balls to each other. I think it was an ugly game to watch.
The pretenders to Kante's crown
"We have to finish it at home now - we have the away goal and we have the advantage. We have to make sure we do that. I wanted a win for my birthday but an away goal will do!
"It was a great finish from Micki. It was a good goal - good from Felli, good from Zlatan and Micki was there to finish. We have to move on and for the next game we're in a good position.
"We didn't underestimate them and we know what they're capable of in the home game. I'm sure we'll play on a better pitch, in better conditions, with all the crowd behind us. We have to finish it at home."