Indian Super League
ISL 2017-18: NorthEast United's Avram Grant: The fourth official jumped on me like I am a criminal!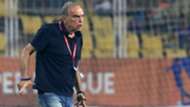 On Saturday evening, NorthEast United FC succumbed to a 0-1 loss on home soil as Wes Brown's header clinched full points for Kerala Blasters.
Despite the defeat, coach Avram Grant was impressed with his players' performance. It must be noted that the north-eastern outfit played with eight Indian players with several foreigners being sidelined due to injuries.
"I am proud of the team; we missed several boys today and played well with our youngsters. We created chances and conceded only from a set piece. Despite not playing with our best player Marcinho, we continued playing the same system. It's good that we have a team like that," commented the Israeli.
"We controlled and dominated the game. The Indians played well and the youngsters got a chance. The local players are improving a lot," he added.
However, the former Chelsea manager was disappointed with the match officials. Further, he criticised referee Tejas Nagvenkar for the marching orders given to him after he entered the pitch in the final minutes of the game. This was after a scuffle between the two sets of players.
"The referees made a lot of mistakes; we respect them and they need to respect us too. The players were fighting on the pitch. I came to separate them as we needed to continue. But the fourth official jumped on me like I am a criminal. They need to respect coaches," he signed off.