Indian Super League
ISL Final: Finally Bengaluru FC find a prolific striker in Miku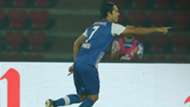 Bengaluru FC's list of accolades in their short history is commendable. They have a piece of silverware in each of their last four seasons and are on the brink of continuing in the same vein in the Indian Super League (ISL) having successfully topped the league stage and make the cut into the finals. Add to that their historic run which saw them finish as runners-up in the AFC Cup in 2016, a first for an Indian club.
They are usually known to handpick players after a lot of screening and on most occasions, it wouldn't be unfair to state that they have got it right.
However, if one had to pinpoint an area in which they haven't been successful with regards to recruitment, it has been the foreign strikers they have roped in.
None of their overseas forwards have been the top scorer for the club ever as that gong has been reserved for a certain Sunil Chhetri. It's fair to state that the 33-year-old has led from the front by chipping in with vital goals.
In the first two seasons, Sean Rooney, an Australian, scored a total of 16 goals in 53 appearances which gives an indication that he wasn't prolific. The likes of Darryl Duffy, Cornell Glen, Josimar, Ranti Martins and Boimah Karpeh had scored more than the former Salgaocar FC striker.
Thereafter, they had DPR Korea's Kim Song-Yong who yielded six strikes from 20 games in the season.
Last year was disastrous in terms of their recruitment of foreign strikers. First, they brought in Roby Norales and the Honduran struggled to adapt. He scored once in four games before being shipped over to Ozone FC where his injury woes compounded. In came Marjan Jugovic who had two goals to his name in close to 300 minutes.
It wasn't surprising that Bengaluru went all out to rope in a world class striker this time around. Mandar Tamhane, the Chief Technical Officer (CTO) of Bengaluru FC, went to Spain in April last year to watch Miku in action for Rayo Vallecano in the Segunda Division. While the negotiations took time to fructify, in Tamhane's own words, he never expected the deal to see the light of the day.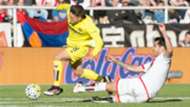 Miku became the league's most expensive foreign signing as he penned a two-year deal. While expectations were sky high from the Venezuelan forward, it's fair to state that the 32-year-old has certainly made a telling difference for Bengaluru.
For the first time they have a foreign striker who has scored over 10 goals for the club. He is the club's leading scorer with 14 strikes and could be the first foreign player to pip Chhetro to the gong. His game is not just about the goals as Miku is also known to drop deep and help the defence, unlike the marquee signings seen previously in the ISL. His work-rate has been exceptional.
"I'm extremely happy to have secured the services of Miku. He is an exciting player with some great skills and his playing style will help us a lot. Miku has played for several top clubs for a number of years now, and the experience he brings in will be very crucial for us this season," said coach Albert Roca.
Although they have had to shell out a lot of money for his services, should they win the Indian Super League (ISL) title this weekend against Chennaiyin FC, they wouldn't complain one bit.