NorthEast United
ISL 2018-19: Eelco Schattorie pleased with NorthEast United's late comeback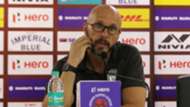 Eelco Schattorie's NorthEast United were staring at their second defeat in a row in the Indian Super League (ISL) but a late penalty which was converted by Bartholomew Ogbeche and a brilliant volley from Juan Cruz Mascia ensured that the Highlanders took all three points on the night against Kerala Blasters.
Needless to say, the Dutchman was pleased with the result but he did find it unusual that the man of the match award was not given to a player of his team.
"I think we played well in the first half. We should have scored at least two. If we had taken those, we could have scored more as I could see that the opponents were not so compact.
"Our tactics were working well in the first half, we created a lot of chances. In the second half, we started dropping a bit. Bartholomew did not train for about 4-5 days. You could see it in the game, he was really choosing his moments."
NorthEast United were dormant until the calamity struck. The 46-year-old was happy that his players were pumped enough to stage a comeback. Eelco showered praise on Juan Mascia, the man of the moment who earned the penalty and scored the winner.
"When they scored the goal, we were hurt. We did not want to go back with zero points so the players started pushing for a goal. I am very happy for Juan; he didn't get to play much. But he caused the penalty and scored the winner. I think we gave the supporters a good time. I find it weird that the opposing team gets the man of the match, the only negative point from today's game."
The unpredictability in Kerala's line-up made it difficult for the hosts to adapt, but Eelco believes that his team did a good job.
"In the build-up, they always had three men in defence. When we got the line-up, I was puzzled about what they would do. They were unpredictable and I spoke to Bartholomew before the game and told him how we need to adjust if they play the way they did. We had to stay compact. The line-up they fielded was different from the one I had in mind."
Juan Mascia has struggled to enjoy playing time at his new club but Eelco makes it a point to keep his players motivated.
"I'm very honest with my players and give them feedback, whether good or bad. With Bartholomew being the top-scorer, I had to explain to Juan that he will have limited playing time. Last week we played two strikers and it worked. I'm very happy that we have that option now. I explain to my players what's wrong and it's his job to correct it. That's how professional football works."