Indian Super League
ISL 2018-19: Steve Coppell – NorthEast United have strong individual players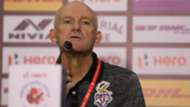 ATK will look to get back to winning ways when they take on NorthEast United FC on Thursday in their match of Indian Super League (ISL) season five at home.
The two times ISL champions are under pressure after going down 0-2 in their opening match against Kerala Blasters.
Speaking on his team's performance in the first game, coach Steve Coppell said, "I have had the same philosophy throughout my management career that is to win the next game. If I focus on winning the next game, everything takes care of itself. For me to think for the next two or three months, it's crazy. We have a game tomorrow. That's all I am interested in."
He further suggested, "Ball retention is the biggest thing. We gave the ball away easily the other night. Moreover, it is so hot. When you don't have the ball it's more of an effort. I hope it will be better against NEUFC. We just need to control the ball more which will give us more potential to go forward and attack."
After the first match, Coppell had stated that Lanzarote could not be as effective in the attacking third as he would have wanted due to the fact that he had to track back so much.
Harping on the same issue, Coppell said, "My objective is to try and get the ball to our key player in higher positions of the pitch. He (Lanzarote) is still dangerous from deep. He has a terrific left foot. He is one of the best talents in Indian Football. The higher he gets the ball the more dangerous he is. We want him to be firing."
On his star Indian midfielder Eugeneson Lyngdoh's condition, Coppell suggested, "I felt I need to get fresh legs up. But in a way, it rebounded on me as the goals came after the changes. Eugene played some games in Spain. It is about confidence with Eugene. Make a tackle and come out of it. He is an intelligent footballer and I am handling him carefully."
The coach confirmed that Cameroonian defender Ander Bikey is still not fit to play. 
Speaking on opponents NorthEast United, the British coach opined, "I have great respect for them the way he has set up his team. Again it is the elements of continuity from last season in terms of imposing the style of play and the authority. They are a quality side. They have strong individual players. Tomorrow will be a tough game. Every game in ISL is tough.
"Their Centre forward (Bartholomew Ogbeche)is good. He is a powerful player. He played top quality football recently. 10 goals in the Dutch top division. He has got pace down the wings. He is even stronger when going in the middle."
Coppell hinted that he will make some changes in the ATK starting XI against NEUFC. He said, "There won't be major changes but there will be changes."