Indian Super League
ISL 2018-19: Bengaluru FC's Carles Cuadrat banking on Miku firing on all cylinders
Sooraj Kamath in Bengaluru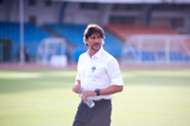 Bengaluru FC are looking towards star striker Miku to provide the necessary firepower up front once again as they embark upon a new season of the Indian Super Leauge (ISL), claims head coach Carles Cuadrat. 
The Venezuelan hitman scored 15 goals last season with most of his strikes coming during crucial junctures of games. Cuadrat is expecting an encore this season as well.
"He's a really good professional, you know? He's taking care of himself and he knows that it's important for him to make the second season a good one. He's happy with the city, he's happy with the club," Cuadrat told Goal .
"All the strikers live for goals and he and Sunil (Chhetri) got us an extraordinary number of goals last season. So it will be one of the aims this season - to try to get the same quantity of goals from both these guys. From this point of view, the strikers are fundamental to our game."
The Blues have further fortified their lethal attack with the capture of Bhutanese winger Chencho Gyeltshen who was exceptional in last season's I-League for Minerva Punjab. Cuadrat is expecting big things from the 22-year-old.
"Chencho is a special player. He comes from a country which does not have a great history of football but we can see that he is a talented player. He is also a physical player.
"We will try to take advantage of his profile. He is understanding the things that we are doing and he's improving day after day."
Continuing the discussion on the Blues' squad, Cuadrat went on to refute suggestions that they did not have a proper backup for Gurpreet Singh in the goalkeeping department. He threw his weight behind new signing Soram Poirei who is expected to be the second-choice custodian. 
"No. I'm very happy with Poirei. I'm very happy with my squad. He's a player who's been in Bengaluru before and he really feels the club like most of the players we have in our squad. So I'm sure that if he has to work for the team, he will do well for us."
The 49-year-old went on to claim that the club is dedicated to developing talents with its reserve and academy teams. He also stated that the fans can expect to see several of the promising talents to feature in the ISL this season. 
"The club is working well on the academy. And I think we can see some of them in the first squad. I mean when you see the games against Altyn Asyr (AFC Cup), you could see some of these guys on the bench. So this means that the (academy) work from the past few years is becoming essential to the first-team squad now. So I think the future will be like this as we improve day after day and get more guys from the youth teams."