Indian Super League
ISL 2017: ATK sign ex-Bolton Wanderers goalkeeper Jussi Jääskeläinen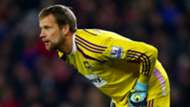 Kolkata outfit ATK has acquired the services of three players on the transfer deadline day. The three names include the likes of an international goalkeeper and two domestic custodians. Finnish international Jussi Jääskeläinen becomes the latest addition to ATK's foreign clan as the former Bolton Wanderers goalkeeper puts pen to paper for Sanjiv Goenka co-owned outfit.
Jussi has earned 56 caps for Finland and had featured for teams namely Bolton Wanderers, West Ham United and Wigan Athletic. The 42-year-old goalkeeper had won the EFL League One, the second-highest division of English Football League, in the 2015-16 season with The Latics.
Speaking of his move to the Indian side, the Mikkeli-born player expressed his joy on playing in India. Jääskeläinen believes that the much decorated Indian Super League has added to the global image of Indian football. ''Indian football has certainly become an exciting prospect due to the onset of ISL. It gives us a platform to interact with a whole new world of football fans who are equally erudite about the game. I have heard about the fans in Kolkata from team management and hoping to be a part of ATK's winning legacy,'' he commented.
Joining the ex-Finland goalkeeper would be central midfielder Darren Caldeira and left back Nallapan Mohanraj. 29-year-old Caldeira last plied his trade with Chennai City in India's top tier league whereas Nallapan Mohanraj returns to The Bengal Tigers, having played for them in the 2015 chapter of the tournament.
Principal owner Sanjiv Goenka believes that the side has the perfect blend of domestic and foreign players this year and anticipates an entertaining season from the Teddy Sheringham-led side. "I welcome the boys into the ATK family. We believe that this year our team is comprised of really dynamic Indian and foreign recruits and I am happy with three more exciting talented players who are all set to exhibit their skills. We look forward to an exciting season ahead. (Nallapan) Mohanraj had been a part of the ATK family and we welcome him back,'' he concluded.