Indian Super League
ISL 2017-18: Steve Coppell - I feel hard done by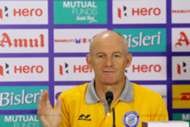 Jamshedpur FC succumbed to a disappointing defeat against FC Goa in their Indian Super League (ISL) clash on Thursday at the Jawaharlal Nehru Stadium.
A brace from FC Goa star Manuel Lanzarote sealed full three points in favour of the home side. Trindade Goncalves scored the only goal for Jamshedpur.
The drama unfolded at the stroke of half-time when Brandon Fernandes was brought down by Andre Bikey inside the penalty box. Referee Venkatesh pointed to the spot, much to the away side's displeasure.
When Steve Coppell was asked about the referee's call, he replied, "I hate complaining about referees. When two sides are closely matched on a night, you want the difference to be from an individual piece of football to score a goal or something like that. You don't want it to be a mistake and you don't want it to be a poor refereeing decision."
"When the penalty was given I didn't have a great view. I thought we may be jostled in. Andre-Bikey clearly makes contact with the ball and it should have been a corner. The second goal was a good piece of finishing. The question mark was maybe about an offside."
"The ISL, I'm sure, doesn't want it to be about the referees deciding games. I feel hard done by. We had some pressure at the end that I was hoping we would convert into a goal. We've got to get ourselves ready now for the next one.
"Overall, I thought we deserved a point. At least for the first half an hour we stopped them from doing what they do. We had a couple of opportunities. It would have been good if we would have taken advantage then. They (FC Goa) are a good side with some exceptional individuals. When looking at our team we continue to play with the desire. I think we'll be alright."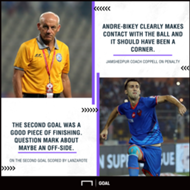 The players of both sides were involved in a heated physical altercation at halftime after the controversial penalty goal. When asked about the same, Coppell said, "I gotta be careful about what I say here. In quite a few of the ISL games, you're looking at players wavering at yellow cards. It's what football is all about. At the point the penalty was given, I think things were said that incited the problem. I said (to Jamshedpur players) at half-time to concentrate on football. 'Don't get involved with the referee or the opposition. That's the only way you'll get back into the game'. I'm glad to say my team responded and tried to win the match."
"We obviously got to improve. Our last five games were against the top five teams. I said from day one, one of my most important experiences from last year, is the scheduling. When you play certain teams, where you play, how much rest you got in between games. That's a critical factor."
"Tonight starts a period of three weeks when we have six games. I think it will fair to say after those six games when we will definitely know where we are at. It's a great challenge for us. We are looking forward to trying and winning each and every game. The ultimate challenge for us is to win at home."
Despite the defeat, Coppell had plenty of good words to say about FC Goa,  "Lanzarote is a terrific player. You look at his goal record. You look at his creation records. The team has got some quality players. Jahouh perhaps shouldn't have been on the pitch for very long. Edu Bedia is a very good player. Corominas has been scoring goals."
"They got a triangle in midfield that other ISL teams are going to try and negate to keep quiet. At this moment, the last thing they would want to do is finish on the top because the team who have finished on top have never won the league. Maybe diplomatically they might want to lose some points," said the Jamshedpur boss.