Indian Super League
ISL 2017-18: Manuel Lanzarote's petulance projects FC Goa in poor light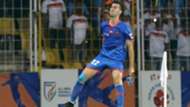 When Gurpreet Singh Sandhu was given his marching orders against FC Goa and rightly so, Manuel Lanzarote too was guilty of fouling the goalkeeper in the first place. The 34-year-old wasn't booked and played an important role in their win.
In their away fixture against Delhi Dynamos, the former Eibar midfielder dived at least on two occasions and was lucky not to have been booked. Against Jamshedpur FC, he was involved in two off the ball incidents with Jerry Mawihmingthanga. After he converted the penalty, Lanzarote was showing gestures which infuriated the visitors.
On Thursday evening in Goa, the former Espanyol player was once again at the centre of controversy. He argued with the referees, gestured that the official needs a pair of glasses and more. He goes down under the slightest of touches and Jeje Lalpekhlua, for once, gave it back by confronting him.
The same for Dhanpal Ganesh when Lanzarote himself was sticking close to the Indian player with his feet high. Although Ganesh pushing him in frustration wasn't justified, the manner in which Lanzarote makes a mountain out of a molehill was evident.
Foreign players, as per the popular line of thought, are to educate the Indians on how model professional plays or behaves on and off the field. Certainly, what Indian players can learn from Lanzarote is how to not behave against a fellow professional, or how to not get oneself booked for arguing with the referee or why one shouldn't dive.
There is no question about his quality, the ability to pick a pass and score with his lethal left foot. He has eight goals and five assists. However, his petulance will never make fans, neutrals or opponents enjoy watching him.
One of the criticisms levelled against Pep Guardiola's historic Barcelona side was the manner in which they would crowd the referee by demanding cards and try to influence him. Lanzarote's petulant reactions mimic those of Barcelona midfielder Sergio Busquets who used to harass referees when decisions went against his team. With more and more Spanish coaches in the ISL, this has become a trend of sorts.
'A player (Manuel Lanzarote) who had gotten three yellow cards, shouldn't have got himself booked for talking to the referee. It was a big error on the player's part. We shouldn't be losing players for stupid reasons like this," said FC Goa coach Sergio Lobera.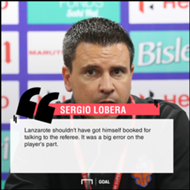 The former Las Palmas coach isn't wrong in his assessment. Probably Lanzarote should have been red carded given the way he treats the match officials and his remonstrations are amateurish.
Maybe he needs a lesson from his fellow team-mates such as Ahmed Jahouh or Bruno Pinheiro on how to behave.
It's time the referees take note of this. They shouldn't shy from booking a player no matter how big his reputation is. A stricter action needs to be taken to ensure that the referees aren't crowded, something which one associates with Spanish football in particular. The players, especially of the Lanzarote type, need to respect the match officials of the country in which they earn their livelihood.