Indian Super League
ISL 2017-18: John Gregory - I am the happiest man in India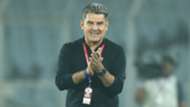 Chennaiyin FC came from behind to snatch all three points against defending champions ATK to move to the top spot of the Indian Super League. Having trailed 1-0 at half-time, goals from Mailson Alves and Jeje Lalpekhua gave the Super Machans a 2-1 victory at Kolkata.
Chennaiyin head coach John Gregory was delighted with the win and said that his side had learnt from their mistakes against NorthEast United FC where they had trailed 1-0 at half-time before going down by 3-1eventually.
"Against NEUFC we were 1-0 down, similar circumstances. That worked in our mind. The important aspect tonight was we did not repeat our mistake. They (the players) kept their focus. I told them there was still 45 minutes. Players kept their composure. Jeje should have scored the third goal but that's fine," he said at the post-match press conference.
The Englishman showered praises on his men for their display on the night to move ahead of Bengaluru FC in the point table.
"This group of players has performed above expectations. I cannot offer one word of criticism for them. They give everything in every match. The team has great attitude. We bounced back brilliantly. Kolkata is not an easy place to do well. We were playing against the defending champs at such a big stadium. We ended up winning so I really don't care," he said.
"We have put together a team with great help of one of your former colleagues Amoy Ghoshal. The boys have been brilliant so far. There is a great attitude within the team. I cannot criticize them. The margin does not matter. After 12 games I am the happiest man in India now," Gregory stated enthusiastically.
The Chennaiyin tactician was also delighted with Jeje's goal-scoring form.
"As a coach you have to support your players. Help them as much as you can. I could easily find faults in my players. But I don't. Jeje is a goal scorer and he is scoring them. How could have scored the third goal. We are working with him. He loves scoring goals. We try playing him to his strengths.
Midfielder Anirudh Thapa had an excellent game in the centre of the park and Gregory was effusive in his praise for the youngster.
"You have to look into his (Anirudh Thapa) strengths. He is a great passer, he has great foot. He played full game tonight. He needs as many minutes as possible. He will be great player for the country. (Stephen) Constantine has to be crazy not playing him in the side I future," he said before signing off.