Indian Super League
ISL 2017-18: Henrique Sereno reveals why he snubbed ATK for Chennaiyin FC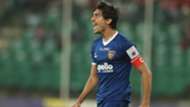 Henrique Sereno scored in the Indian Super League (ISL) final last season and also won the Man of the Match award. This was after he joined as a replacement for Pablo Gallardo and played an important role in clinching the title in Kochi.
The Kolkata franchise ended their association with Atletico de Madrid and thus, chose not to renew the contract of coach Jose Molina. In came Ashley Westwood as the technical director and Teddy Sheringham as the coach.
The club didn't retain a single foreign player from their title winning campaign. Interestingly, Sereno, who has signed for Chennaiyin FC this season and made it into the play-offs once again, mentioned that ATK did approach him in the summer.
However, the 32-year-old chose not to sign for the Sourav Ganguly co-owned ISL franchise, who eventually finished ninth on the table.
"ATK contacted me and I almost signed there. But I started to see the players that they were signing and I didn't agree with it. Then Amoy Ghoshal (Chennaiyin FC's Chief Technical Officer) spoke with me and I came to Chennaiyin FC," he revealed to Goal.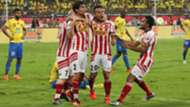 Sereno is the skipper at Chennaiyin FC and every player at the club would attest to the leadership qualities he brings to the table.
On being asked about the leadership qualities he possesses, Sereno responded, "I don't know. In all the clubs I have played in, I was the captain or one of the captains. Maybe it is my personality that helps but I don't go and ask for the captaincy. But they choose me and it doesn't matter to me If I am chosen captain or not. I will do the same things with or without the armband."
The former FC Koln defender isn't clear on his future beyond the end of the season but spoke of his desire to remain involved in the game.
"I don't know yet. I'm going to think about this soon because physically I'm not the player I used to be. I'm going to think about it but I will remain in football. Maybe as a coach or sporting director, I will stay in football but I don't know when," he commented when asked about his future.