Indian Super League
ISL 2017-18: Chennaiyin have been lucky in the last few weeks, says John Gregory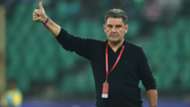 Following an own-goal from Indian international Narayan Das, Chennaiyin FC clinched a victory on Thursday evening at Goa. The win keeps their chances of booking a berth in the playoffs positive.
Speaking about the performance, head coach John Gregory stated that his side was comfortable playing defensively as they were aware of the opposition's strengths. Further, he praised Sergio Lobera's side along with Albert Roca's men for their style of play.
''I think it was pretty evident that the home team (FC Goa) is an outstanding team. If we were to try and chase the ball, we would be running around all night to get it because they keep the ball very well. They pass the ball well and they support each other all over the pitch.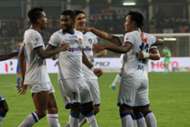 "Basically, we were quite happy to sit back in our own half for the majority of the game and hope we would get something on the counter or a set-piece because if we try to match Goa man-to-man, they play football better than us. They are one of the best football teams in the ISL. Them and Bengaluru (FC) keep the ball fantastically well,'' he commented.
In the win against Goa, Chennaiyin registered their third straight clean-sheet in as many away matches. Praising his players for the impressive display shown in the last matches, the Englishman expressed, ''My group of players are a fantastic bunch who work exceptionally hard for one another with a tremendous team spirit amongst them. Everybody plays a part. Even the boys who came off the bench went on and did the job for us.''
However, the former Northampton Town player admitted that the Southerners were indeed fortunate on several occasions in the clash at Goa and previous fixtures. ''We rode on a little bit of luck throughout the game as well. Lanza (Manuel Lanzarote) hit the crossbar which came out and hit one of our players. Once or twice the ball has gone across the face of the goal which somebody could have touched it in or the defender could have put in his own net but we got away with it. We have had a great deal of luck in the last few weeks,'' he signed off.