Indian Super League
ISL 2017-18: Delhi Dynamos' Miguel Portugal - Manuel Arana and Matias Mirabaje tilted the game for us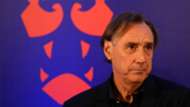 Delhi Dynamos enthralled the assembled fans at the Jawaharlal Nehru Stadium, Delhi with some brilliant display of attacking football especially in the second half to register a 4-3 victory over ATK.
The Delhi outfit were trailing the game 3-1 in the 58th minute before scoring three goals to snatch full three points in what will be a memorable win.
"I looked at the match and I thought at 1-3, it wasn't a fair reflection since we had been playing well. We just made two mistakes and Kolkata made it 3-1. That is why I made the three changes. Matias Mirabaje is a very important player and we are playing two matches in four days hence, he did not start the match since I want to keep my players fresh for all games.
"I think Matias and Manuel Arana changed the match in the last 30 minutes when they came on," said coach Miguel Angel Portugal.
The third goal conceded by Dynamos was thanks to an error by Spanish custodian Xabi Irureta and Portugal was asked to share his thoughts on the same.
"He made a big mistake, I don't blame him. But it's all these indecisions; my players make too many mistakes, even my Spanish goalkeeper," he replied.
Delhi are on a four-match unbeaten run and Portugal explained that his side have been in the bottom half of the table due to individual errors.
"I always wait for my team to play better. It usually gets better after some time. In the last three or four matches, the team has more chemistry and combination. For that, we have played well. We conceded three goals through some individual mistakes so those are still there. We conceded through a free-kick and a defensive error.
"We were making these mistakes in the previous matches too, but today, we played really well in attack and scored four goals. That I think has been the difference from before."