Indian Super League
ISL 2017-18: Chennaiyin FC's Vita Dani - Format does not matter, important how you play final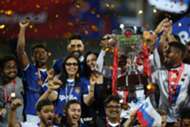 The Indian Super League (ISL) format has been the same ever since its inception in 2014 - a home and away league phase followed by the top four teams in a playoff and ultimately a fina.

However, after Chennaiyin FC won the 2017-18 edition beating Bengaluru FC on Saturday night, voices from various quarters have questioned the very existence of the knock-out games in a 'league'.

Those include Bengaluru FC head coach Albert Roca and goalkeeper Gurpreet Singh Sandhu who maintained that their side, even after getting beat 3-2 in the summit clash were the 'real champions' after they finished the league phase on top, albeit eight points ahead of second-placed Chennaiyin FC.

Co-owner of the two-time champions, Vita Dani, responded to the criticism of the format by saying, "I don't think it (playoff format) really matters. In season one, we topped the league and still lost the trophy. The format does not matter. But what is important is that how we played in the final. I think we 've been one of the most consistent teams in the entire league and it is a deserved victory."

During the celebrations on Sunday in Chennai, she mentioned, " I am very proud to announce that we are the most successful team in the ISL. I can say that confidently after looking at all the stats and data. We have made Tamil Nadu proud.

"We have won two cups for Tamil Nadu now and both were under different circumstances.Both are equally important and they are for our fans."

Dani also revealed that the Southerners had reached an agreement to extend head coach John Gregory's contract for another season. " John has played a very important role, especially when we had to bounce back from last season. It is under his leadership that the team has performed so well.

"We have tied him up (John) for the next season. A year to begin with because that's how he prefers as well," she said.

In 2018-19, Chennaiyin FC will be partaking in the qualifying stages of the AFC Cup. "I take great pride in saying we are the first ISL club to get a spot in the AFC Cup," concluded Dani.