Premier League
Invincible - Arsenal rise above the pressure to seal incredible unbeaten season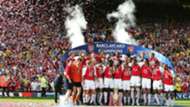 Goal and Sure have partnered to create the Pressure Index, the only way to measure how players are handling the stress of the most competitive league.
And to show you how the Pressure Index works we take a look at how Arsenal came back from a goal down to seal victory and cap a remarkable Premier League title.
They were so nearly there. There was just one game to go. Arsenal had gone 37 matches without defeat.
The Premier League title had already been secured, it was history that was up for grabs now.
But somebody hadn't read the script. This was supposed to be routine, a comfortable home victory to become the first side to go through a league season unbeaten in well over 100 years. 
Instead, they'd have to rally round, bounce back, after Paul Dickov headed Leicester City into a shock lead at Highbury just 25 minutes in.
Arsenal's performance on May 15, 2004 scored big on the Goal Pressure Index, presented by Sure and powered by Opta data, which is an innovative and unique player-rating system to identify and reward players for outstanding performance in pressure situations.
Using more than 750,000 data points and considering influences such as league position, time of season and opposition, our unique algorithm calculates performance under pressure to give every Premier League player a weekly score out of 100.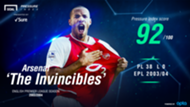 It was party time at Highbury that afternoon. Arsenal had romped to the Premier League title, completing a hat-trick of English league championships since Arsene Wenger's arrival in North London.
But come half-time the mood had changed. The title in the bag, everyone at the club wanted the record. They wanted to win the Premier League like it had never been done before, or since.
They'd all said it was impossible. That there would have to be a slip, that no team could remain undefeated for 38 games. Arsenal had done for 37, this was the final hurdle.
So they rallied at the break, and came out fighting. It took them less than a minute to get back on level terms.
Dennis Bergkamp picked it up in midfield, and Leicester, all set for 45 minutes of backs-to-the-wall stuff, stood off, allowing the Iceman the time to peruse all around him, and send a wonderful, curled, cross-field ball to get Ashley Cole in on goal on the left.
Cole was bundled over by Frank Sinclair and the referee pointed to the spot. Thierry Henry stepped up, and coolly slotted home to become the first Arsenal player to hit 30 league goals in a season since Ronnie Rooke more than half a century earlier.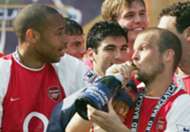 This Arsenal team had strolled to the title with style and panache, with a swagger that few league champions had shown in the past.
And, with the record back on, with their names pencilled back into the history books, they inked their name into English football lore with the most fitting of winners, as once again Bergkamp proved the architect of their success.
While Leicester stood off, he slotted a sublime ball through the defence with the outside of his boot, perfectly weighted for the onrushing Patrick Vieira to side-step former Tottenham goalkeeper Ian Walker and pass into an empty net.
"That team was special because people always talk about the Arsenal way, and that's what I like most about that team," said Henry. "Everybody was always willing to give the ball to the guy in a better position."
Arsenal's performance was worth a very impressive 92/100 on the Goal Pressure Index, presented by Sure.
The Goal Pressure Index is presented by Sure, Official Partner of Chelsea FC, Everton FC and Southampton FC. Join the conversation on Twitter @Sure.