Super League
Indonesian star Ezra attracts offers from Malaysia and Thailand, says manager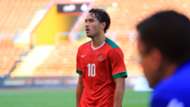 Indonesian striker Ezra Walian could leave Europe to play club football in Southeast Asia, says his representative.
The 21-year old player is currently playing in the promotion play-offs for second-tier Belgian side RKC Waalwijk, on loan from Almere City.
According to his manager, Ezra has attracted the interest of a top Thai club, as well as Malaysian sides, while the Dutch-born player himself is not ruling out a move to the region.
"We have received offers from Europe, as well as those from Southeast Asia; from Malaysia and Thailand. [But] he will only decide on it after the play-offs.
"There are benefits of him playing club football in these countries; if he receives an Indonesia call-up, the distance and schedules are more suitable. He is eager to play for the national team," said Wide Putra Ananda.
Each Malaysia Super League club is allocated an ASEAN player slot, with the mid-season transfer window of the competition currently open. Among the clubs who may be interested in him are Perak, who did not sign any ASEAN player at the start of the season, and Terengganu FC, who were recently reported to be keen on offloading Cambodia international Thierry Bin.