Indian Super League
Indian Super League: Star India's Sanjay Gupta - 'ISL has brought about a revolutionary and seismic change in Indian football'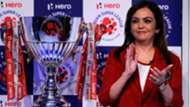 Sanjay Gupta, Managing Director of Star India who are the official broadcast partners and co-owners of the Indian Super League (ISL), has opined that the ISL has brought about a seismic and revolutionary change when it comes to football conscience in India. 
He was speaking at The Football Movement conference in Mumbai, organised by The UK Department for International Trade (DIT) together with India On Track (IOT) and the Premier League. The event was also graced by luminaries like former Newcastle United striker Alan Shearer and Richard Scudamore, the Executive Chairman of the Premier League. 
As part of his keynote address, Sanjay Gupta chose to focus on the increase in viewership when it came to sports other than cricket. On the role ISL has played in increasing awareness in football, Gupta said, "Football! A sport which has been around on TV in this country for the last two decades but seen as an 'elitist Sport'– the kind of interest, excitement around it has never been seen before. The Indian Super League, for the first time, has managed to bring the game to our doorstep." 
AIFF to have coaching courses in Hindi
"It has been the largest breakout in the Indian footballing ecosystem – from an all-time high television viewership to huge stadia attendance and enabling a superior experience for fans," he further added. 
He went on state how the ISL has managed to become one of the most viewed footballing league in the world. "419 million people in this country switched on their television sets to watch the first season of ISL. It is now the third most attended football league in the world! ISL has managed to bring football to the radar of our national consciousness, where it is beeping brightly. This is not merely unprecedented. This is a revolutionary and seismic change," he stated emphatically. 
While acknowledging the huge potential with respect to football and sports other than cricket, he also lamented the poor infrastructure and academics-oriented thought process which plagues the development of sports in India. 
India can upstage big boys in football in time
"The fact is we are doing better than before but nowhere close to where we should be. In the ranking of sports playing nations we are at #67 in the Olympics medal tally. Except Cricket and Kabaddi India has not been in the top three of any major sport," he lamented. 
"Our kids are playing for an abysmally small period of time, if at all. And when they do, it is with pitiable infrastructural support. Even in football, let us not look away from the glaring statistics that our global ranking is #130," he pointed out. 
Touching on the subject of improving the situation, Sanjay Gupta called for a change in mindset when it came to kids taking up sports. "Parents continue to believe, even today, that sport is at best a recreational indulgence largely unproductive and unrewarding. Schools do not give it its due in their poorly designed curriculums and inadequate facilities."
"A school kid in India plays for less than 40 mins a week. In countries like US and Australia, this number would be closer to 12 to 14 hours. Our entire system, of education and societal norm outside, has been designed to reward excellence in academics, but be indifferent to and at times, even punish an interest in sport," he stressed.