Chennaiyin
Indian football: Chennaiyin FC snap up seven AIFF graduates to complete 'B' team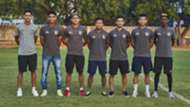 Chennaiyin FC, whose first team participates in the Indian Super League (ISL), have announced their 'B' team on Friday that will partake in the I-League second division among other tournaments.
The 'B' team is set to play their first competitive fixture in the Don Bosco - Fr. McFerran Trophy All India Football Tournament (AIFF) at Don Bosco Matriculation School, Red Hills here on Saturday, 13 January 2018.
Seven AIFF Elite Academy graduates have been signed into the project – midfielder Saurabh Meher, defender Ajin Tom, defender Mohammed Sarif Khan, winger Joysana Singh, forward Aman Chetri, defender Aimol Chongompipa Reamsochung and defender Hendry Antonay who was part of India's 2017 U-17 World Cup squad.
Besides the aforementioned U-18 boys, the rest of the team will be made of up players from Tamil Nadu and other parts of India who were scouted by the Chennaiyin FC.
"The launch of the 'B' team marks another important milestone in the club's history. The team will fundamentally be a link between the youth teams and the senior squad. This move is also aimed at facilitating the transition of players to the senior team and ensuring their development continues through exposure in a competitive environment. It will serve as a platform for the youngsters to get consistent game time," read a statement by the club.
Overseeing the developments will be Syed Sabir Pasha, the club's technical director for youth development who is also employed in the capacity of the first team assistant coach. The 'B' team is expected to bridge the gap between the senior team and other youth teams - U-13, U15 and U-18 which were launched last year.