Granatkin Memorial
India U17 National Team: Nicolai Adam - India doesn't have a lot of top players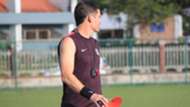 Nicolai Adam's India Under-17 team went down 2-1 to Estonia in the Valentin Granatkin Memorial Tournament at St.Petersburg on Saturday.
"I saw a beautiful play of the Indian team today. The boys did their best and I think that the youth football should be much like this. Despite (the fact that) they are young, they were fighting equally against the elder team," said Adam as his team came up against the Estonian's Under-18 team.
Barcelona calm on Messi contract situation, insists Suarez
Boris Thangjam was has been singled out as the star performer among the Indians and Adam was asked to comment if the Indians depended on him to dish out a top performance each time.
"First of all, I don't think that a player born in 2000 can be called a star. And I can't say that we depend on him much. Yes, he's good as a right defender and he is also good in other positions. But we have a big squad, and I would like to see more players in my team. As I said before, India is a huge country, but our football is only developing and we don't have a lot of top players," he opined.