India
India to play Mauritius and St. Kitts & Nevis in three-nation tournament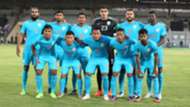 India will play a three-nation tournament with Mauritius and St. Kitts and Nevis in Chennai later this month, Goal can confirm. 
The tournament will feature three matches, with each team taking on the other teams once, and the venue will be the Jawaharlal Nehru stadium in Chennai. 
The tournament is expected to be conducted between August 19th to 27th. 
Luis Norton de Matos sets India U17 down a promising path
Interestingly, Mauritius are ranked 153rd in the world currently while St. Kitts & Nevis are placed at the 124th position. India, on the other hand, are ranked 96th in the world. 
Initially, the All India Football Federation (AIFF) had planned to conduct a Champions Cup with four teams participating but were forced to tweak their plans following the difficulty in roping in a fourth team.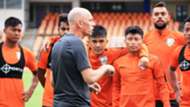 Indian coach Stephen Constantine will be conducting a preparatory camp ahead of the tournament in Chennai from August 11th which will see a 34-man initial squad put through their paces. 
The Blue Tigers have had uplifting results of late under Constantine and are on a seven-game winning streak. 
The camp and the tournament is expected to be good preparation for the Indian team ahead of their 2019 AFC Asian Cup qualifier match against Macau on September 5th. India are top of Group A in the qualifiers, having won their opening two games against Myanmar and Kyrgyzstan.