SAFF Championship
Delhi Dynamos midfielder Vinit Rai itching to leave his mark in India's SAFF Championship preparatory camp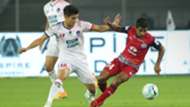 The 34-man squad, set to take part in the training camp called by Stephen Constantine for the upcoming South Asian Football Federation (SAFF) Championship, wears a predominantly young look. It is no surprise that Vinit Rai finds a place among those names after being a regular for Delhi Dynamos last season.
Along with Lallianzuala Chhangte and Nandhakumar Sekar, Vinit was one of several youngsters who impressed for the Dynamos in the last edition of the Indian Super League (ISL). The Assamese midfielder and Tata Football Academy (TFA) graduate made 13 appearances for Miguel Angel Portugal's men in the ISL last season.
Despite Delhi struggling in the season, Vinit's performances were noteworthy and was rewarded with a call-up to the preparatory camp for the Intercontinental Cup although he failed to make the final cut. That has not deterred the 20-year-old who is taking it all in his stride as he looks forward to playing in the SAFF Championship.
"I am really glad and really excited that I got this call up for the SAFF Championship camp. I was recently part of the National Team Camp and even though I couldn't make it to the final squad for the Intercontinental Cup, I gave my best and made sure that my efforts get noticed. I am happy that the coach has once again shown faith in me and I am really hoping I make the cut to the main team this time around," he explained in a chat with Goal.
Having spent most of the 2016-17 season with the Kerala Blasters where he made only two appearances before moving to Minerva Punjab on loan, the youngster is delighted with the outcome of his move to the national capital.
"The move to Dynamos has been a big positive for me because before that I was struggling to get game time in Kerala Blasters," said Vinit. "The club has shown great belief in me and they consider me a vital part of the squad for the coming seasons as well and I really happy for that. I just want to make the most of these chances and make sure my game keeps on improving with every match.
"There are aspects that I need to improve and I am constantly working on that even when I am at home, with my father. Dynamos have given me an ideal step to prove myself in Indian football."
Vinit is confident that the Delhi youngsters in the camp can leave a marked impression in the SAFF Championship.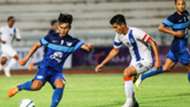 "Of course, when you have players of similar experience and the same club as you in the camp, it is good because you've played with them at club level so you know their style of play. Both Nandha and Chhangte are extremely talented players who deserve this call up as well," he stated.
"Chhangte was one of our best performers last season and I am hoping he can showcase his abilities in the camp as well this time around," he added.
Like Vinit, another fellow 20-year-old midfielder who has been earning rave reviews of late is Anirudh Thapa of Chennaiyin FC who made a big impact in India's triumph at the Intercontinental Cup. The ISL winner's recent displays for both Chennaiyin and India have caught the attention of Vinit who hopes to line up alongside the midfielder in the future.
Praising Thapa's recent showings, Vinit said: "Anirudh is a very good player and seeing him perform so well for India is a confidence booster for a lot of young players. He has done extremely well in the ISL also and deserves the chances he is getting at the top level."
"We both like to keep moving the ball but he is more of an attack-minded player while I prefer to sit deep. But there are a lot of things I can learn from his play and I am eager to play alongside him in the midfield. "
A pass master in the centre of midfield, Vinit is hoping to add more facets to his game.
"I want to keep improving as a player and develop better attributes. I like to play passing football and want to keep working on that. I think I can work more on the attacking part of the game and my ball distribution as well," he stated.
Vinit is hoping to impress Constantine further in the upcoming camp.
"Coach Stephen along with the senior players helped me a lot in the camp. He constantly guided me during training sessions and highlighted areas where I can improve. He has spoken to me individually in training sessions as well and has motivated me to keep improving. I am happy to have got another chance to show him my talent in the SAFF camp," the Dynamos midfielder said.
It will be the youngster's first ever senior India appearance should he make the final cut for the SAFF Championship squad. He has, however, not yet given up hopes of making the squad for the Asian Football Confederation (AFC) Asian Cup in 2019 despite the continental showdown being less than six months away.
"I hope I get a chance to play in the Asian Cup. It will be a dream come true for me. It is a big tournament with top Asian teams so obviously it is a target that not just me but a lot of players have right now. I just want to make the most of the slightest opportunity I get and prove my worth. The call-up to the camp is one such window of opportunity for me and I want to give my best," Vinit explained.
Whether or not the midfielder can fulfil those dreams in the coming months remains to be seen but what cannot be denied is that he is one exciting youngster whose development will be followed with plenty of anticipation and hope.