Free State Stars v Mamelodi Sundowns
IN DEPTH: How Mamelodi Sundowns retained the title against Free State Stars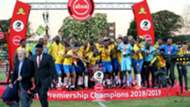 ---
TEAM NEWS
---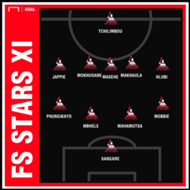 Free State Stars made one change from the side that drew 1-1 with Kaizer Chiefs last week. Rooi Mahamutsa was recalled in place of the suspended Simisani Mathumo at centre-back.
Once again, Eleazar Rodgers was left on the bench in favour of an extra midfielder, whilst Sibusiso Hlubi came into this game having scored in each of his last four appearances.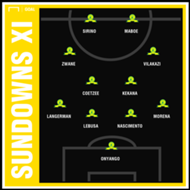 Mamelodi Sundowns made just one change from their 2-0 win against Golden Arrows as Mosa Lebusa replaced Wayne Arendse in central defence.
Rivaldo Coetzee kept his place in central midfield in preference to Tiyani Mabunda.
---
DOWNS USE FRONT TWO
---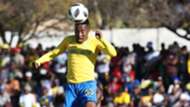 For this game, Sundowns tweaked their shape slightly.
Instead of Lebohang Maboe up front, with three players in support, Downs used Sirino up front with Maboe as a second striker with Sibusiso Vilakazi and Themba Zwane in narrow positions in-behind.
The formation looked more like their regular 4-2-2-2 shape from last season.
Both forwards stayed high up, whilst the narrow midfield invited Stars to get the ball wide and deliver crosses.
The home side left Rodgers on the bench, so had attacking midfielder Harris Tchilimbou as their front man.
Most of their attacks were filtered down the flanks, with genuine wingers and attacking full-backs on both sides.
With an abrasive midfield trio, including captain Paulus Masehe playing what was expected to be his final game before retirement, Stars had little technical quality or threat through the middle.
Sundowns were able to easily play out from the back in the first-half.
Hlompho Kekana and Coetzee could drop off away from Stars midfield and face forward to pick out the front players.
Makhehlene Makhaula and Relebogile Mokhuoane tried to close them down, but always had too much ground to cover and just ended up selling themselves.
Pitso Mosimane's side regularly targeted the space behind right-back, Nyiko Mobbie's forward runs, hitting early long passes into space to find Sirino.
One long goalkick from Denis Onyango set the Uruguayan away and he crossed for Maboe to head a presentable chance wide.
Stars had their moments of threat too as Hlubi and Mokhuoane tested Onyango from long-range but the Ugandan was equal to everything.
---
FIRST GOAL KEY – DOWNS GET IT
---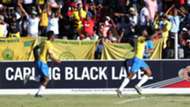 This season, Sundowns have won 12 of their 14 games when they have scored first.
The opener in this game would be key tactically. If Sundowns got it, Stars would need to take greater risks and would probably play a more direct game whilst the away side could slow down the tempo.
When the goal arrived, it was a terrible one to concede.
Kekana's long pass was reached first by Stars' Mbhele, but instead of heading the ball clear, he tried to nod it down to Phungwayo.
Right before half-time, this was an unnecessary risk with little reward.
Zwane picked up possession and with his mistake obvious, Mbhele went storming out of the defence chasing the ball, leaving a giant hole in the backline.
A pass from Kekana left Stars exposed five versus three, and Mahlambi (on as a straight swap up front for the injured Sirino) passed the ball into the bottom corner.
Considering this was the 43rd minute in a game where a draw would have kept the home side up, it was a very poor goal. Downs had something to hold onto
---
SECOND HALF – SUNDOWNS INVITE DIRECT PLAY
---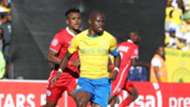 At the break, Stars made one change as target man Rodgers replaced Mokhuoane. This meant Tchilimbou dropped into his more familiar number ten role.
Sundowns were not trying to defend by keeping the ball, but instead, they ceded possession to Free State Stars, knowing that they lacked the technical players in midfield and defence to play penetrative passes.
In the first 20 minutes of the second half, the home side had 62% possession, but were very predictable in their play – everything went wide and was delivered into the box.
Pitso Mosimane said in his post-match television interview, that he was happy to face a direct approach:
"When they put Eleazar on, I liked it because we knew what was going to happen. So, we had to overload the heart of our defence and deal with the balls coming in and Denis can catch anything that goes over them," he told SuperSport TV.
That is exactly what happened. Coetzee could drop into the box to aid his central defenders, whilst Onyango was unbeatable on high balls – catching corners, crosses and long-throws from Mahamutsa in a virtuoso goalkeeping display.
With Mahlambi up front, Sundowns were happy to play on the break although, with the speedster up front, the side often struggle to play possession football due to his lack of interplay ability with teammates.
Stars threw on young forward, Mpho Khabane and Goodman Dlamini and went to a 4-4-2 to try to grab a late equaliser, but the pressure never really arrived in a limp surrender to relegation.
Sundowns made their usual changes to beef up their defence, first bringing on Lyle Lakay for Themba Zwane to play as a defensive winger, and then Wayne Arendse came on for Sibusiso Vilakazi to really protect their box.
As the hour mark arrived, Sundowns clearly dropped their intensity, likely due to fatigue.
---
SUMMARY
---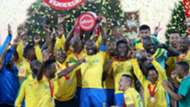 This was a win less about tactics, and more about experience, game management and quality.
Sundowns got in front at the perfect moment and then invited Stars to play an aerial game, which caused very little problem against their aerially strong centre-backs and goalkeeper.
Stars' plan looked muddled and lacked any subtlety.
After initially trying to bring in a passing game after taking over, Nikola Kavazovic moved to percentage, direct football after his side's 5-0 defeat to Cape Town City and it never really brought an improvement.
Downs take the title in back-to-back seasons having won their last five matches despite very little recovery time between games.
They relied on their communication (team chemistry and understanding) to see them through even when playing games with fatigue.
They also found ways to lift the tempo in matches at key moments, then slow games down when leading.
With big players leaving at the end of last season, some important positional changes were made to find the right combinations, especially Lebohang Maboe playing as a false nine.
Pitso Mosimane and his excellent technical staff of coaches and analysts deserve a lot of praise for their physical and tactical durability this campaign. They are deserved champions.