Juventus v Barcelona
'I'm sure they miss me!' - Dani Alves says Barcelona have failed to fill his void since Juventus move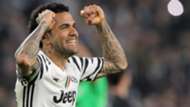 Dani Alves believes he is still missed at Barcelona after ending his long association with the club to link up with Juventus.
The Brazilian brought an eight-year spell at Camp Nou to a close last summer as he packed his bags for Turin.
Why Dybala is not Messi's heir
He departed Catalonia having collected an enviable collection of major honours, including six La Liga titles and three Champions League crowns.
Barca are yet to find a suitable successor at right-back, with Alves having brought "unique" qualities to their ranks on and off the field.
"Barcelona now? It's strange! I'm sure they miss me!" the 33-year-old told FIFA's official website ahead of a reunion with his former club in the quarter-finals of this season's Champions League.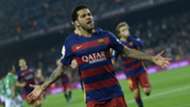 "I think they appreciated me as a professional, a football player, and as someone who was good to have around the place, who made every game unique, with a new dance or new music or whatever.
"I brought a bit of joy to the dressing room. I've spoken to them and they've told me that that's what they miss about me the most: how happy I am and the way I am. They say I'm unique."
Bonucci: Barca weaker than in 2015
Having spent many years chasing trophies at Barca, Alves is now doing the same at Juve.
The Italian giants are well on course to defend their Serie A title, with Coppa Italia and European prizes also up for grabs.
Alves added on a new chapter in his distinguished career: "Italy? It's different but it's a challenge at the same time.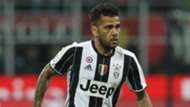 "It was strange to begin with, but I've always enjoyed a challenge, which is why I decided to make the move.
"I have to say that I didn't feel as comfortable any more at Barça. Things changed at a club level, and as time went on, I always seemed to be the one in the firing line.
'Barca couldn't come back v Juve'
"'Dani's the one who has to go,' they'd say. I just got tired of it. I decided to head off in a new direction and find happiness somewhere else.
"Strange to pull on the black and white jersey? Yes, it was! I played for the same team and with the same team-mates for many years.
"It's weird, but that's football. I'm a very restless person and new experiences excite me more than anything else. And that's what I'm having right now with Juve."