Selangor
'If they can't give their best, they need to leave' - Amri comments on under-performing Selangor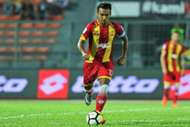 ---
BY        ZULHILMI ZAINAL       Follow on Twitter
---
Selangor's 2-1 defeat to Kedah in their Malaysia Super League (MSL) clash on Saturday was their fourth consecutive league match without a win, and they are currently in ninth place in the standings.
Selangor vs Kedah match highlights
After the match, when asked by Goal about the cause of the Red Giants' decline in recent years, Selangor's oldest player Amri Yahyah responded by hinting at the failure of their numerous young players to rise to the challenge.
This season, Selangor have registered 15 players aged 23 and below in their roster, a policy they had had to adopt at the start of the 2017 season due to constrained finances.
Injuries and drops in performances experienced by the more senior players have forced head coach Nazliazmi Nazmi to field more and more younger players this season, and while this solution had been largely been praised by critics and fans initially, it hasn't produced the results desired by the fans.
Out of nine Selangor matches under Nazliazmi, Selangor have won four of them, while two ended in draws and three in defeats, and they are currently separated by only three points from the relegation zone.
"It's true that we have been fielding many of the younger players this season, but their lack of experience shouldn't be an excuse. The reality is we have to field them due to injuries and suspensions to the more senior players.
"Maybe the youngers boys have been surprised by how much tougher the MSL is as compared to their previous experience in the President's Cup (Malaysia's U-21 club competition)," explained the 37-year old former Malaysia international in the post-match press conference.
Amri, who began his senior career at Selangor in 2001, then gave a biting advice:
"I hope my teammates will not turn our youthfulness and inexperience (as a whole) into an excuse everytime we lose.
"We have to realise that every team that we face wants to beat us. Selangor are a big name and those who play for us must give their very best. If they can't, they need to leave."