Zlatan Ibrahimović
'I'm like Benjamin Button' - The stats that show Zlatan Ibrahimovic is getting younger every day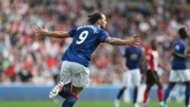 To call it an Indian summer would be an understatement.
At 35 years of age, Zlatan Ibrahimovic continues to defy biology. "I feel like Benjamin Button. I was born old and I will die young," he said on Sunday after netting his 250th goal since celebrating his 30th birthday.
"The older [you get] the more experienced and intelligent [you get]. You don't waste so much energy on things you don't need."
Manchester United and Jose Mourinho certainly need whatever energy he's got left – his opener in the 3-0 defeat of Sunderland at the Stadium of Light was vital to their hopes of staying in the race for Champions League qualification. 
Collecting the ball back-to-goal on the edge of the box, the veteran span his marker and fired an unstoppable shot inside the far post to give his side a vital lead.
It was the 21st different Man Utd match of the season that has seen a Ibrahimovic goal. He's now found the net in 41 per cent of his side's matches since arriving from Paris Saint-Germain on a free transfer at the start of the season.
Ibrahimovic's performance earned him an impressive 92/100 on the Goal Pressure Index, presented by Sure and powered by Opta data, which provides the first ever system to measure and rate a team and player's performance under pressure.
The Goal Pressure Index uses more than 750,000 data points as well as factors including league position, point in the season and the opposition to calculate a rating out of 100 for every Premier League player every week.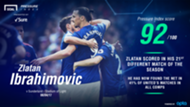 United's unbeaten run in the league now stands at 21 matches (W11 D10 L0) – the joint-10th longest unbeaten stretch in the history of the competition.
But they've drawn 10 of those – including five of their last six outings at home. Mourinho's side have won just six of their 16 league games at Old Trafford this season, which is their worst home win percentage in a campaign since 1973/74.
With home wins so hard to come by, only Ibrahimovic and United's away form have kept them in the running to earn a Champions League return via the league. 
Time and again this season, Man Utd have struggled to find a way though defensive opposition, but on Sunday Zlatan's goal changed the entire course of the match, forcing Sunderland to come out and leave themselves exposed.
And it was the Swede's 10th away goal of the Premier League campaign. Only Sergio Aguero (11) and Alexis Sanchez (12) have more on the road.
"You need these players to break it." Mourinho said. Every team has a couple of them. Zlatan is one of them.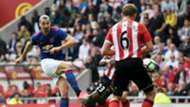 The victory moved his side up to fifth, four points behind rivals Manchester City with a game in hand, and took Zlatan to 17 Premier League goals for the season.
Elsewhere in the Premier League, Southampton goalkeeper Fraser Forster was another Pressure Index high scorer after he made a joint-most six saves to earn his side a 1-0 win at West Bromwich Albion.
Son Heung-Min and Eric Dier were also in the top 10 after their goals helped Tottenham to a 4-0 demolition of Watford, while last week's big winner Philippe Coutinho earned a score of 91 after coming off the bench to inspire Liverpool to a 2-1 victory at Stoke City.
The Goal Pressure Index is presented by Sure, Official Partner of Chelsea FC, Everton FC and Southampton FC. Join the conversation on Twitter @Sure.