Transfers
I will consider big-money PSL offers, says Sundowns target Jali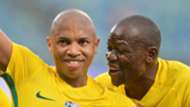 Andile Jali's club KV Oostende recently exercised their option to renew the combatant midfielder's contract for one more season.
However, there still remains a cloud of uncertainty surrounding Jali's future as his agent has been rumoured to be looking at prospective offers away from the Belgian club.
The 27-year-old is a Mamelodi Sundowns target and the player's latest pronouncement may have the Brazilians waiting with their cheque books open.
Jali told the City Press newspaper that while he hopes to remain in Europe for another season, if any PSL club is to offer him a big-money deal, he will consider it.
"Sometimes loyalty doesn't pay the bills. So, money talks. If I get more money at home, then I will consider that," Jali said.
Jali revealed that since making the move to Belgium, his game has improved considerably, but says that his shooting still needs some polishing.
"You know I have been fined five or six times for not shooting at goals, but for ­passing the ball to my team-mates instead." he revealed.
Jali also believes that it is important for fans to understand the challenges that South African players face when playing in Europe.
"There are lot of challenges and the ­conditions are not nice. People must understand that we, as South Africans, are not as hungry as others from other parts of the continent because there's still luxury at home. Sometimes we have to push ourselves. No one will if we don't," Jali concluded.