Opinion
I was not expecting to win #WritingGamesNG, says Adepoju Ademola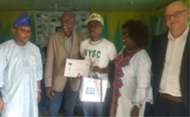 Winner of Goal Nigeria and University of Sussex's Writing Games Adepoju Ademola is elated after being crowned this year's champion and claims he never fancied his chances to win.
Ademola, a 22-year old writer and a graduate of Project Management from the Federal University of Technology, Akure is currently a corps member serving in Osun State, Nigeria.
Since graduating, Ademola has largely focused on writing fiction, poems and essays. An alumnus of the Ake Fiction Master Class, his works have featured in several online magazines and he wrote his first essay on Freedom for African countries – organised by Japeth Omujuwa when he was in 200 level.
"I was not really expecting it, I did it on the last day," Ademola told Goal.
"When I saw my name announced as the winner on the Writing Games handle, I could not believe it.
"I saw the ad on the website, so I decided this topic was something really important.
"I almost did not submit my entry because I do more of fiction but I was drawn to the subject matter.
"Sports writing catches my attention and I try to follow it on the website, reading people like Ben Spratt, Ben Hayward and Lolade Adewuyi.
"Going forward, I would love to develop my writing skills, I have not stuck to one niche, so I am keeping all my options open."