African All Stars
'I want to be better than last season' - Christian Atsu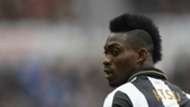 Christian Atsu has restated his desire to improve his performance in the English Premier League with Newcastle United when the 2017/2018 season kicks-off.
The 25-year-old was on target as the Magpies cruised past Serie A side, Hellas Verona in their last pre-season game on Sunday and he wants to keep doing well when the English elite commences.
"I always want to do something to help the team move forward. I try to work hard and I want to be better than last season," Atsu told club website.
"We know what is ahead of us – it's bigger than what we passed through last season – and we just need to keep working hard and be better players, each and every day.
"I think I'm more focused, and I'm also listening to Rafa Benítez. His advice has been very important to me, and my teammates have also been very supportive too. We're all working together
"With him, I think I'm improving. I just need to keep working hard and keep trying to help the team each and every game. Now there is big competition in the team, and you can't underrate any player. I just need to keep working hard and try to do something for the team."
"We are working hard and we are becoming a better team. We are understanding each other on the field and we are also a very strong team to beat."
"We are prepared. For me, any minute that I play I'll give my best for the team and do my job on the field. I believe the team is well prepared for the season ahead, no matter what happens," he continued.
"The Premier League is coming, we're happy to be there and we have to keep working hard and improve because the Premier League is very difficult, with more quality
"But I believe in the players that we have and our game-plan. We just need to stick to it, and keep fighting until the end."