AIFF Super Cup
'East Bengal did not have any plan in I-League' - Subhash Bhowmick at loggerheads with Khalid Jamil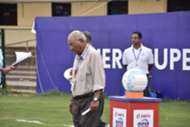 East Bengal technical director Subhash Bhowmick has taken a dig at Khalid Jamil after the club defeated FC Goa in the semifinal of the ongoing Super Cup on Monday.
The Red and Gold brigade, who finished fourth in the I-League earlier this season, registered their third consecutive win to reach the Super Cup final. They will meet the winner of the second semifinal match between Mohun Bagan and Bengaluru FC in the grand finale on April 20.
After the match against FC Goa, Bhowmick indirectly slammed Khalid Jamil under whom the same side had failed to live up to the expectations. The veteran coach said, "East Bengal did not have any plan in I-League but now we have one."
He further added, "The team finished fourth in I-League but now they will finish first or second (in Super Cup)."
It is pretty evident that the technical director's words are aimed at Khalid Jamil under whom East Bengal finished fourth in the aftermath of an inconsistent season in the recently concluded I-League.
Regarding Dudu's injury and chances of him playing in the final, Bhowmick and Jamil had different things to say. Jamil at the post match press conference said, "Let's see. Will have to check tomorrow but I think he will be fine before final." But Bhowmick clearly mentioned that Dudu may not play in the final. 
According to sources, the relationship between the technical director and the coach deteriorated right before the match. Subhash Bhowmick left the team meeting after he got involved in an altercation with Khalid. Even during the match, the two had a verbal altercation in front of the reserve bench. 
It is a known fact that Bhowmick and Jamil have been sharing a strained relationship right from the beginning of Bhowmick's tenure. Khalid Jamil had even refused to join training after the technical director took charge of the team back in March.
With East Bengal standing at a very important juncture of the season, the clash between the two bosses will surely come as a huge setback.