I-League
I-League: Shillong Lajong'sThangboi Singto - Playing well doesn't mean anything when you don't get points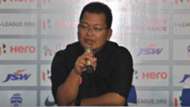 Shillong Lajong went down 2-1 at home to East Bengal on Saturday evening with two goals from Christopher Payne before Aser Dipanda pulled one back.
Coach Thangboi Singto expressed his disappointment with his team's defence as they continued to leak in soft goals.
Red and Golds ride on Chris Payne's brace to reclaim top spot
On being asked if he would have been happy with a point against East Bengal, Singto said, "Definitely. That's what p****s me off and sorry for my language. You see the first goal was poor defending, what else can you say.  
"For the second goal too, we gave away a free-kick (and conceded). What I can take from this game is we keep on pushing, we keep on playing much better than the other team but in a game winning is more important.
"But the good thing is that we got a goal, we created lot of chances and we maybe could have scored a few goals in the first half. In the second half, Dicka had a chance, Samuel's brilliant effort was tipped over the bar by Rehenesh, Rupert too had a chance. So I think chances were there the only thing is that conceding silly was goals again very disappointing," said Singto.
Rupert Nongrum had a brilliant opportunity to equalise late in the game but completely fluffed his lines. Singto was questioned if the younger players in his team were under tremendous pressure to perform against big teams.
"I think maturity and experience counts in this type of situations but in football if you're 21-22 years, I think you should be able to deal with that. Maybe we need to work more on our mentality - stay calm and composed. We're trailing but we need to stay calm and composed. We must keep on probing, keep on trying and keep on playing as we can and the goals will come," he mentioned.
East Bengal's Trevor Morgan – Mohammed Rafique did a fantastic job
Singto stated that he had asked his players to opt to thump the ball long straight for the strikers, instead of building up through the middle.
"I think we were outnumbered in midfield. There was always Mohammed Rafique, Nikhil Poorjary and Rowllin (Borges). That's why I told the players to be more direct. You know instead of making all those short passes we wanted to go direct where we could create more chances. But again I mean playing well doesn't mean anything when you don't get points. That's the end of the story," he concluded.