I-League
I-League: Mohun Bagan's Sanjoy Sen - Not interested in what East Bengal have done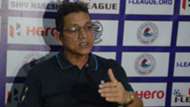 Mohun Bagan suffered their first defeat of the I-League season as they went down 2-1 to Churchill Brothers on Saturday evening at the Tilak Maidan, Vasco.
Coach Sanjoy Sen acknowledged that his team's defence was shoddy and that they didn't deserve to pick three points.
Aubameyang brace sparks hosts to easy win
"Today or tomorrow we were going to lose in the league. We were punished for the way we defended today. If you defend like that, you don't deserve to win. We have to come back strongly. When we won the I-League, we lost three matches," said Sen.
East Bengal picked up three crucial points earlier in the day with two goals from Christopher Payne as they downed Shillong Lajong 2-1 in an away game.
"I am not interested on what East Bengal has done. We have to play there (in the northeastern region) and do well," he mentioned.
Mohun Bagan face first league defeat
After the end of the game, Debjit Majumder, accompanied by Balwant Singh and Prabir Das were involved in an altercation with their own traveling fans. However, Sen opted not to comment on the said issue.
"I am not interested on what is going around outside the pitch," he replied.