I-League
I-League: Mohun Bagan's Shankarlal Chakraborty - Cameron Watson is fitter than before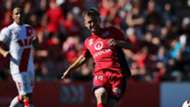 Mohun Bagan's new coach Shankarlal Chakraborty believes that injuries and failure to turn draws into wins have slowed their progress this season in the I-League. The Green and Maroon brigade started their campaign with a draw against Minerva Punjab FC before picking two important victories.
It was the 5-0 win against Churchill Brothers which proved costly for the Kolkata side as they suffered as many four injuries in the aftermath.
"After the Churchill game, we suffered four major injuries. Then we had a spate of draws. In the third draw (against Arrows), we were leading by a goal but drew in the end. Then the players started feeling the pressure. They could not get out of a hole. Sanjoy da (Sen) had warned the players not to get into a rut but the players couldn't react. This also shows they were not confident.
"We have to give 200 per cent now to bounce back. Our target is to become champions eventually. But we want to take one match at a time," said Chakraborty.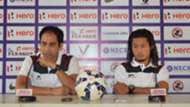 He reasoned that for the club to get positive results, they need to get their self-confidence back as soon as possible.
"You will always be under pressure at Mohun Bagan. Under pressure, at times you excel. The players' self-confidence needs to comeback. Keeping in mind Mohun Bagan's support base, when the team suffers back-to-back setbacks, more than technical you need to bring back the self-confidence.
"Time though is at a premium. We play on Sunday and so we have to work together to recover as soon as possible," he mentioned.
Chakraborty wouldn't want to change the style of play at this stage of the season and also shared an update on new signing Cameron Watson.
"The doctor has seen Sony (Norde) and has given a good report. Arijit Bagui is back in training. I will try to build on Sanjoy Sen's style of play. We are thinking of an assistant coach but that is not on my mind at the moment. Cameron Watson is certainly fitter than before," signed off Chakraborty.
Mohun Bagan face the reigning champions Aizawl FC this Sunday at the Bagan ground.