I-League
I-League: Bengaluru FC's Albert Roca - Even big teams know how difficult it is sometimes to score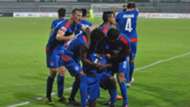 Bengaluru FC picked up their second victory on home soil as they downed Chennai City FC on Saturday evening with second half goals from Roby Norales and Chekiyot Vineeth.
However, the Blues struggled to put their chances away in the first half with Daniel Lalhimpuia being the chief culprit as Chennai were lucky not to be a goal down.
"We played well in the first half. We were lacking because we could not score the first goal in the first half. We let them believe that they could have a good result again. So it was to force them till the last moment. Unfortunately, it's a shame for the clear opportunities that we had in the first half (we didn't score). In the second half we knew that they (Chennai City) would try to get us nervous but we took control of the situation and we deserved to win," said coach Albert Roca.
Roca was questioned if he was pleased with the squad at his disposal and it was only after he made two substitutions that they managed to score twice.
"We are lacking because we scored after both changes, but they are strikers and they are here to score. We could see that they were a little bit tired and we took advantage of this. Fortunately the first goal came early enough," he opined.
Cameron Watson was left out of the starting eleven and the former Barcelona assistant coach explained the reason for the same.
"Cameron (Watson) could not play. He had flu. So we had to change the tactics and Eugene (Eugeneson Lyngdoh) had to play a bit back for that reason. It is quite normal. It's going to be like this perhaps in the future. We have to use as many players as we can. Sometimes it is difficult. Eugene is a very good player. He knows his job. He can play a little bit behind or forward," he mentioned.
Messi saluted by Raul as Barcelona ace equals La Liga record of Real Madrid legend
Lenny Rodrigues has been steady in the middle of the park for Bengaluru FC as Roca praised the demeanour of the former Churchill Brothers midfielder.
"Lenny (Rodrigues) had played well in the initial games. He is a professional and he knows his job. Perhaps a little bit more defensive but he is a person who can keep the ball and control the situation. So we need him because he's one who would never give up and is one step forward (in his game). We are very happy to have him in our squad," he reasoned.
Roca explained why he chose not to start with Roby Norales and why sometimes it's difficult for top teams to break down the opposition defence to score goals at will.
"He (Roby Norales) has been here for only 10 days. By now we are very happy with him. He doesn't talk too much English but he is always trying. He did well today (Saturday) as he went on the pitch with the mentality to be part of the squad. I hope the goal will help him to grow (at Bengaluru FC).
'Look who won the Ballon d'Or' – Simeone jibes at Ronaldo as he insists only results matter
"These things happen everywhere. Even big teams know how difficult it is sometimes to score. You can see that even Barcelona, Manchester United had some problems to score in some games this season. Even if we have missed some good chances, finally we have won our games 3-0 and 2-0," he elucidated.
He acknowledged that Bengaluru FC must expect opponents to sit in their own half especially when they visit the Kanteerava Stadium.
"We have to be ready for that also. We know that we are perhaps one of the top teams in the league. The other teams know that they have to defend to get a good result here (against Bengaluru). So we have to be focused and train on this when we play at home and away also. We have to accept our role and we have to see which are the ways to break this kind of defence," he signed off.