I-League
I-League: Aizawl FC coach Santosh Kashyap - Shillong Lajong are a great team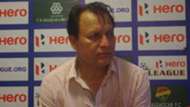 Aizawl FC come up against Shillong Lajong in an away fixture on Monday evening and coach Santosh Kashyap is confident of getting a positive result.
It's been less than a week since Kashyap took charge of the reigning I-League champions and since then, they have picked a point against Indian Arrows in Goa.
"The boys are adapting and learning very fast which helps me to implement new things. We played the last match and at least we got a point. We are confident and going match-by-match," he said.
Shillong Lajong started the season on a bright note but eventually lost as many as eight matches midway through the campaign.
"It happens in a long league. Every team cannot be at the top. You win matches, you lose matches. We are also in the same situation. It will be an equal match. The same environment is here in Aizawl. It depends on how the players perform in the match. We will try to do our best," he mentioned.
Kashyap also pointed that his team has a few injuries to contend with but was pleased that Mumbai City FC's Lalchhawnkima has joined their squad.
"We have many injuries. Yugo Kobayashi is out. Kareem (Omolaja) is also out for the season. Kim Kima has joined that's good news for us. We will try our best with the players available," he said.
"Lajong are a great team. They gave good foreigners and are playing good football. They started well. Home advantage is there for them. We will try to do our best. It is a north-east derby and we will try to do our best," he signed off.
Meanwhile, Shillong Lajong's Alison Kharsyntiew is focussed on winning three points against Aizawl which would help them more or less avoid the drop at the end of the season.
"It is a very important match. Hopefully, we will get three points. Tomorrow (Monday) we have to beat Aizawl. It is a very crucial game for us. We are working on our weaknesses and focusing on recovery.
"At this stage we are focusing on everything - defending, finishing. We have been travelling a lot and so recovery is important. Our defence is not a problem. But in the attack, we are not scoring goals. We can't defend for 90 minutes and so if we get chances we have to score the goals. There is quality in the squad but they don't have the confidence. We lack quality in finishing," he concluded.