I-League
I-League 2017: Stephen Constantine shoots down Debjit Majumder's national team prospects despite Kolkata Derby performance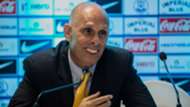 Indian national team coach Stephen Constantine, who was in attendance for the highly-anticipated Kolkata derby between league leaders East Bengal and Mohun Bagan, expressed his amazement at the crowd which cheered on both the teams in Siliguri today. The Englishman also gave his verdict on the latest installment of Indian football's biggest rivalry. 
"If you ask both sets of players before the game, they would want to win but it is okay the game ended in a draw. I was amazed at the crowd. It was fantastic to see the people signing and dancing. Thankfully, no one got hurt," Constantine expressed. 
But he did not have encouraging words for Mohun Bagan custodian Debjit Majumder, who had snubbed a call up to the national team in March 2016 for a 2018 World Cup qualifier against Turkmenistan. The 29-year-old goalkeeper could not join with the national team squad as he had I-League commitments with Mohun Bagan and it looks like Constantine has not forgotten that episode.
He had this to say when he was asked about Debjit's prospects of making the Indian team for the Asian Football Confederation (AFC) Asian Cup qualifiers, in the wake of an impressive save he pulled off to keep the scores level today. 
India to play Cambodia in March
"I called him up in our squad and he failed to show up. End of story. He is not interested even though I called him into the India game," he commented bluntly. 
The former Rwanda coach also revealed that he wanted India to play a friendly against Thailand, instead of Cambodia, before the 2019 AFC Asian Cup qualifier against Myanmar in March. But he did admit that it was more important to play any friendly, instead of diving headlong into a crucial game. 
"We wanted to play Thailand but we got Cambodia. But then it should not be a problem because after all the boyes need to play together after such a long time going into the qualifiers," he revealed.